Save articles for later
Add articles to your saved list and come back to them any time.
This story contains spoilers for Succession
Rupert Murdoch has confirmed that he is stepping down as chairman of Fox and News Corp, with long-time best boy (and eldest son), Lachlan Murdoch taking over as the sole chair of News Corp and Fox.
For those of us who have spent the last few years obsessing over the blurred lines between Succession's fictional Roy family and the very real Murdochs, this was strangely thrilling news that offered more questions than answers.
Tell me this doesn't have big Succession opening credits vibes. (left to right): Lachlan Murdoch, James Murdoch, Anna Murdoch, Elisabeth Murdoch and Rupert Murdoch.
Was Lachlan's name crossed out or underlined? Has anyone checked on Roman – sorry, James? Did a handsome Swede have anything to do with the decision? Is Rupert planning to get on a plane soon, and will he wear compression socks?
Rupert Murdoch standing down just four months after the Succession finale aired has naturally captured the internet's attention, with fans quick to point out just how familiar this all feels.While Succession showrunner Jesse Armstrong may have sworn that his hit HBO show was done for good after four seasons, considering a real-life succession is in the works, perhaps a Christmas special is in order.
Meanwhile, here's a reminder of all the times the real-life figures inspired the show.
Billionaire squabbles treated with group therapy
The season one episode Austerlitz features the Roys taking part in family therapy at Connor's New Mexico ranch. Logan hopes that by bringing the family together, they can wade through what sets them apart. According to a 2019 investigation by The New York Times, this appears to be straight out of the Rupert Murdoch playbook.
The cast of Succession. From left Jeremy Strong (Kendall Roy), Kieran Culkin (Roman Roy), Brian Cox (Logan Roy), Sarah Snook (Shiv Roy) and Alan Ruck (Connor Roy).Credit: HBO
The New York Times reported that Murdoch once hired a counsellor in London who specialised in working with dynastic families to help ease tensions between his sons James and Lachlan. "There was even a therapeutic retreat to the Murdoch ranch in Australia, but these sessions provided just another forum for power games and manipulation," the paper reported
Games and manipulation? Sounds a lot like Boar on The Floor.
Disney buying Fox is basically GoJo buying Waystar
One of Murdoch's final power moves was to sell most of his assets to Disney for an eye-watering $71.3 billion in 2019. Before his untimely demise, one of Logan's final power moves was (a plan) to sell most of his empire to tech company Gojo.
Fox News remained Rupert Murdoch's most prized asset, and the mogul was sure to keep a hold of it even when he sold most of his empire to Disney in 2019. This mirrors Logan's relationship with ATN.
As part of the plan, Murdoch kept Fox Corp – his prized asset. As part of his deal, Logan would keep ATN – his prized asset. Disney's Bob Iger may not be as charming or handsome as Lukas Mattsson, but you get the idea.
Two moguls terrifyingly moseying
One of the most like-for-like recreations in Succession came in the season four episode, The Rehearsal, when Logan returns to the ATN broadcast studio, pacing the floor (or, as Greg calls it, "terrifyingly moseying") while staff desperately try to ignore the billionaire owner spying over their shoulder.
Standing atop a stack of printer paper Logan outlines his vision. "I'm going to build something faster, lighter, meaner, wilder," he roars. "Everyone knows the truth, but nobody says it because they're too f—king lily-livered."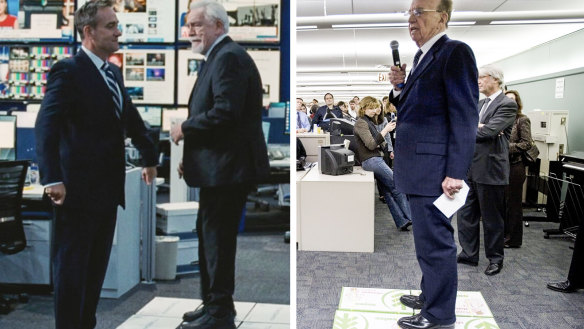 Same same, but different? Logan's visit to the ATN newsroom floor was a direct reference to Murdoch's trip to the Wall Street Journal. Right down to the printer paper podium.
This is a direct nod to a moment in 2007, when Rupert Murdoch's News Corp purchased The Wall Street Journal's parent company, Dow Jones, in a $5 billion deal. Murdoch travelled to the WSJ's Manhattan newsroom as the deal was being finalised, where he terrifyingly moseyed around before making a speech to the staff while standing on a platform made from photocopier paper.
Speaking on HBO's official Succession podcast, executive producer Lucy Prebble said: "I was there, [Rupert's] speech wasn't as good, but I was fascinated by how these figures like Murdoch particularly, have these relationships with their newsrooms."
Logan and Rupert: Wealthy but not healthy
Succession began with a health scare for Logan Roy after he suffered a hemorrhagic stroke, and over the course of the show, he would continually battle ill health, including a nasty urinary tract infection. Similarly, Rupert Murdoch has had his fair share of health issues, having suffered a "broken back, seizures, two bouts of pneumonia, atrial fibrillation, and a torn Achilles tendon" in recent years, according to Vanity Fair.
The story also revealed that Murdoch almost died after falling on his son Lachlan's yacht, which caused broken vertebrae and a spinal hematoma. This particular incident saw Murdoch's family rush to his bedside, which is precisely how the pilot episode of Succession begins.
According to Vanity Fair, Murdoch joked that he did not realise how serious his condition was until he had seen all his children gathered around his hospital bed – which sounds a lot like something Logan would say.
The Forgotten Child: Connor Roy and Prudence Murdoch
As fathers, both Logan and Rupert have much in common. They both love to pit their offspring against one another, and, more worryingly, they often forget just how many children they have.
Despite being the actual eldest boy, Connor Roy is never more than an afterthought in Succession, a maligned product of Logan's first marriage. Logan skips his wedding day, and Connor is the only child not to speak at his father's funeral.
Connor (Alan Ruck) is often overlooked when it comes to the Roy family bidding.Credit: HBO/Foxtel
Similarly, Prudence is Murdoch's oldest child from his first wife, Patricia. However, much like Connor, she is not part of the family business, and the 92-year-old has been accused of leaving her out. He famously once referred to "my three children" (as in Lachlan, James and Elisabeth) in a 1997 interview, forgetting that Prudence existed at all.
Find more of the author's work here. Email him at [email protected] or follow him on Instagram at @thomasalexandermitchell and on Twitter @_thmitchell.
Find out the next TV, streaming series and movies to add to your must-sees. Get The Watchlist delivered every Thursday.
Most Viewed in Culture
From our partners
Source: Read Full Article