Most of the Today Show co-hosts are reporting from home due to the coronavirus crisis, with Hoda Kotb holding down the fort in Studio 1A. Carson Daly, who does double duty as emcee of The Voice, is staying in quarantine with his wife Siri and their four children, including newborn daughter Goldie Patricia whom the family welcomed on March 26.
With the global pandemic causing widespread economic and social uncertainty, anxiety levels are rising for many people. Both Daly and NBA star Kevin Love have both spoken openly about living with anxiety and offered some strategies in the hopes of helping others.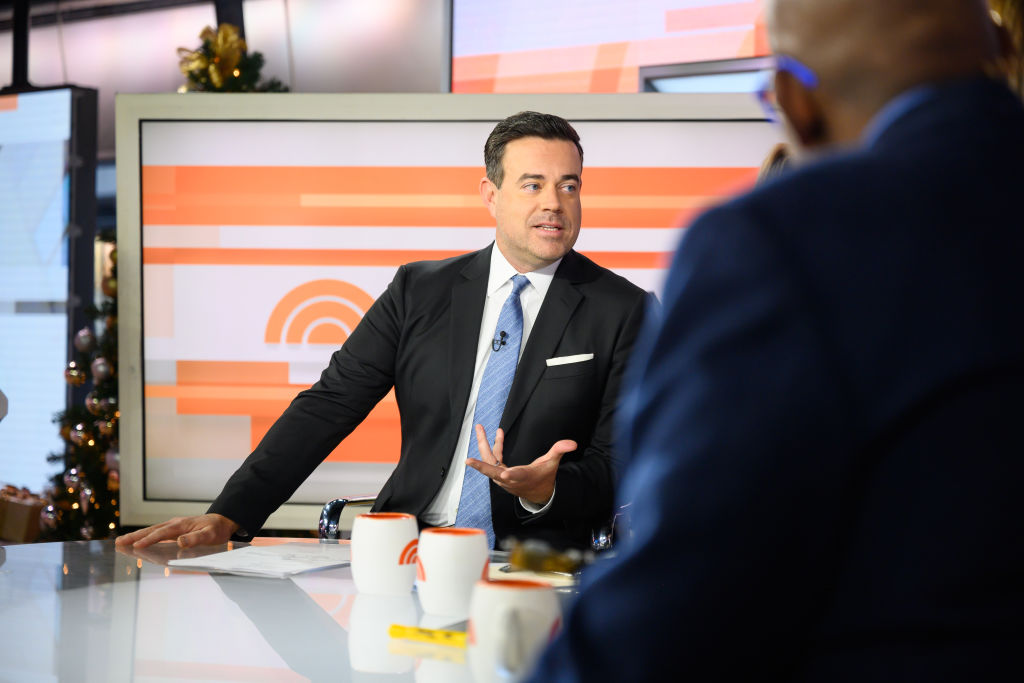 'Today' star gets real on anxiety disorder
In March 2018, Daly spoke with Today about his experience with anxiety, revealing that he has generalized anxiety disorder. The Today star recalled his first panic attack that occurred when he was about to go on the air to host Total Request Live.
"I had a hard time breathing. I was terrified for no apparent reason," he remembered.
The Voice host shared that the panic attacks he experiences at times can get so intense that he once went to the hospital thinking he was having heart attack. "At times I feel like there's a saber-tooth tiger right here and it's going to kill me attack me and bite my head off. I'm scared as if that's really happening," Daly said. "You feel like you're dying."
Daly shared his story hoping to bring comfort to others dealing with anxiety and also destigmatize the condition.
"This is the way I was born. This is the way I was hardwired. This is the downside the way God made me and there's a tremendous upside as well," he said. "That's the flip side to the anxiety. I don't walk around every single day a nervous wreck. I don't want people to think, 'Oh, are you okay? Are you freaking out?' No, I'm good."
NBA star shares personal struggle
In March 2018, Cleveland Cavaliers player Kevin Love published an essay in The Players' Tribune to share his story on dealing with anxiety and bring awareness to mental health issues.
"Everyone is going through something that we can't see," Love wrote. "Mental health is an invisible thing, but it touches all of us at some point or another. It's part of life."
Love made a point of reminding readers that mental health issues afflict people from all races, occupations, and backgrounds, and expressed the importance of getting help.
"Mental health isn't just an athlete thing. What you do for a living doesn't have to define who you are. This is an everyone thing," Love wrote. "No matter what our circumstances, we're all carrying around things that hurt — and they can hurt us if we keep them buried inside. Not talking about our inner lives robs us of really getting to know ourselves and robs us of the chance to reach out to others in need."
Carson Daly and Kevin Love offer strategies for managing anxiety
With the majority of the nation under quarantine and still so many unknowns hanging in the balance with the COVID-19 crisis, Daly and Love wanted to start the conversation on how to handle the anxiety that's affecting many people during this unprecedented time. With strategies as simple as creating a routine, Love recommended maintaining a level of productivity.
"I'm just such a creature of habit," Love said, according to Today.com. "Getting things done, I think, alleviates stress … I think the accumulation of things done over this time is super healthy."
Daly echoed Love's suggestions, making a regular schedule a priority in his home. "I need mental focal points," the Today co-host explained. "We (have) a schedule for the kids. Everybody, get up at nine o'clock, we're going to do the pledge of allegiance, like you're in school … Then I'm going to work out and … devote an hour to this or that."
Spending his quarantine time with his girlfriend Kate Bock and dog Vestry, Love still makes a point of connecting with others outside of his housemates.
"Get on your Zooms, your Instagram Lives, FaceTimes," Love suggested. "There's times throughout the day where myself I'll just say, I got 10 minutes, I'm just going to pick up and call a teammate I haven't talked to, or a friend back home or my sister who's back in Oregon right now. Just finding ways to stay connected through this time, I think, is incredibly important."
Kudos to Daly and Love for sharing their tips and bringing more awareness to mental health.
Source: Read Full Article