From her tragedy-stricken childhood on a farm near Johannesburg, South Africa, to her award-winning career as a leading actor in Hollywood, Charlize Theron's journey is one defined by bravery, talent, and perseverance. In 2003, Theron proved just how much she had to offer when she portrayed sex worker and serial killer Aileen Wuornos in Patty Jenkins' "Monster," a performance that the late film critic Robert Ebert hailed as "one of the greatest performances in the history of the cinema" in 2004. 
Ebert was not the only one who was impressed by Theron's performance. In 2004, her embodiment of Wuornos was recognized by the Academy of Motion Picture Arts and Sciences with an Oscar for Best Actress in a Leading Role. "Monster" also earned Theron a Golden Globe, a Screen Actors Guild Award for Female Actor in a Leading Role, and a string of other accolades, cementing her amongst the best in Hollywood.
In addition to her illustrious acting career, Theron has also made a name for herself as an activist for her work with several causes, including women's and LGBTQ+ rights, the fight against HIV/AIDS among African youth, violence against women and girls, and many others. Her humanist causes led her to become one of the world's most influential people, a title she snagged in 2016 when Time magazine included her in its top 100 list. Theron has transformed and evolved alongside her ever-changing roles, both in her career and in her personal life. Keep scrolling to check out Theron's incredible journey so far.
Charlize Theron had a rural childhood in apartheid South Africa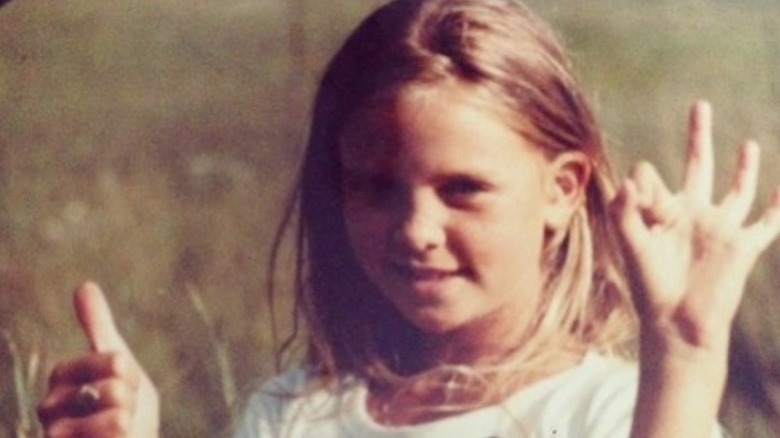 Charlize Theron did not dream of being an actor. In fact, her upbringing and parents "could not be more removed from anything about this industry," she told Variety's Jenelle Riley in 2018. Both Gerda and Charles Theron were road constructionists in South Africa and raised their only child on a farm in Benoni. Even though she grew up during the apartheid regime, she lived with farm workers who were from different ethnic backgrounds, including Xhosas, Zulus and South Sothos, she told NPR's Terry Gross in 2019. Gerda was against the segregationist regime, so Charlize did not see racism play out until she left home.
Charlize spent her formative years at Laerskool Putfontein in Benoni, a place where she struggled to fit in. In a 2011 interview with People, she opened up about being bullied over her thick eyeglasses, haircut, and clothes. "I wore really nerdy glasses because I was blind as could be and the boys didn't like [me]," she told the magazine.
She was then sent to Johannesburg to attend the National School of the Arts, according to Wired. "I was pretty much a mess in primary school. But I got that out of my system by the time I got to high school and was more immune to all of that stuff," Charlize said. It was in Johannesburg that she first understood the apartheid rules, describing how friends' parents forbade her from visiting after finding out she grew up among Black Africans, she told NPR.
Charlie Theron's teenage years were marked by family tragedy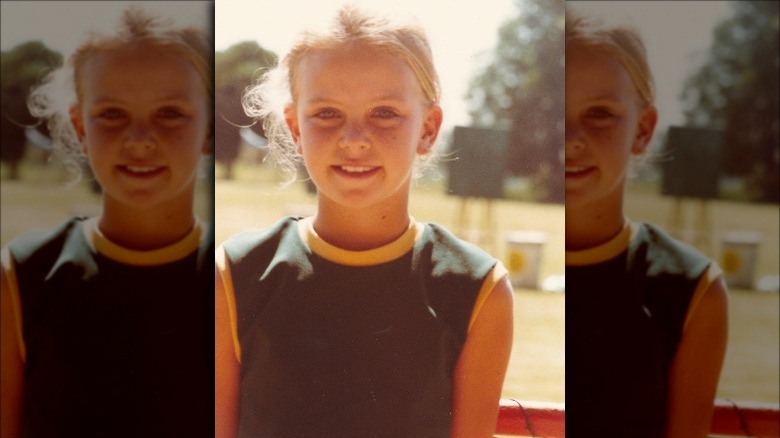 It was during her time at the boarding school in Johannesburg that Charlize Theron experienced tragedy in her family. In June 1991, when she was 15 years old and home from boarding school, she witnessed an alcohol-fueled fit from her father that cost him his life — and nearly cost hers and her mother's. That night, her father and his brother arrived home armed with a gun, prompting Charlize and Gerda Theron to hide in her bedroom, where they kept their bodies against the door to keep him from forcing it open, she told NPR.
Charles Theron shot through the door three times and Gerda used her own handgun against the two men to protect herself and her daughter, killing her husband and wounding her brother-in law, according to ABC News. "[T]he day-to-day unpredictability of living with an addict is the thing that you sit with and have kind of embedded in your body for the rest of your life," Charlize told NPR. While what she experienced has left her traumatized, Charlize understands her mother's actions. "I know what happened. And I know that if my daughter was in the same situation, I would do the same thing," she told ABC's Diane Sawyer.
Gerda did not face prosecution after the attorney general ruled that she acted in self-defense, per ABC. Gerda urged her daughter to head back to Johannesburg after the incident, encouraging Charlize to focus on her future, Charlize told Sawyer.
Originally a ballerina, Charlize Theron turned to acting after an injury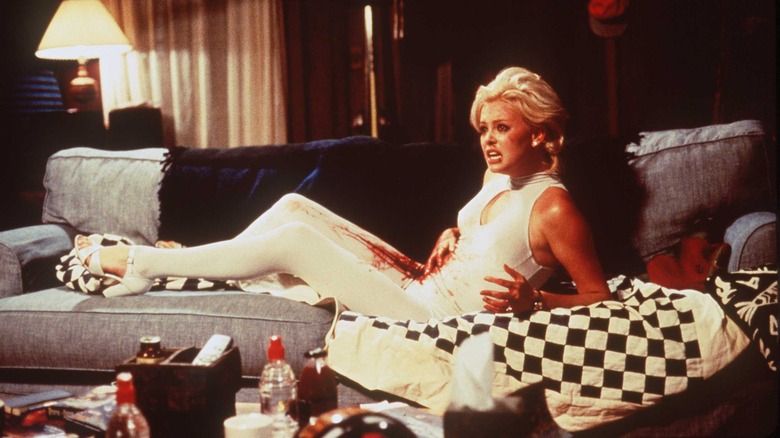 Even though Charlize Theron did not grow up wishing to pursue acting, she was a natural-born artist. Ballet was her passion, an art she thought she would dedicate her whole life to. "I danced for most of my life, from the time that I was like 4 years old. I thought that was what I was going to do for the rest of my life," she told Variety in 2018. But at 16, Theron found an opportunity in the modeling world and moved to Milan, she told The New York Times. However, she saw modeling like a way to support her ballet career, the same way she did waitressing, she said. 
But it was modeling that took her to New York, a place she ended up spending the winter in a friend's basement to attend classes at the the Joffrey Ballet, per the NYT. When she suffered knee issues that prevented her from dancing, she fell into a depressive state. Her mother came to visit Theron and essentially told her crying over spilled milk in New York was too expensive. "Either you figure out what to do next or you come home, because you can sulk in South Africa," her mother said, as Theron recalled to the NYT. In 1994, at the age of 18, Theron opted to move to Los Angeles and take acting classes, according to Oprah.com. Her first film, "2 Days in the Valley," came out in 1996.
Charlize Theron's first-ever role shot her to fame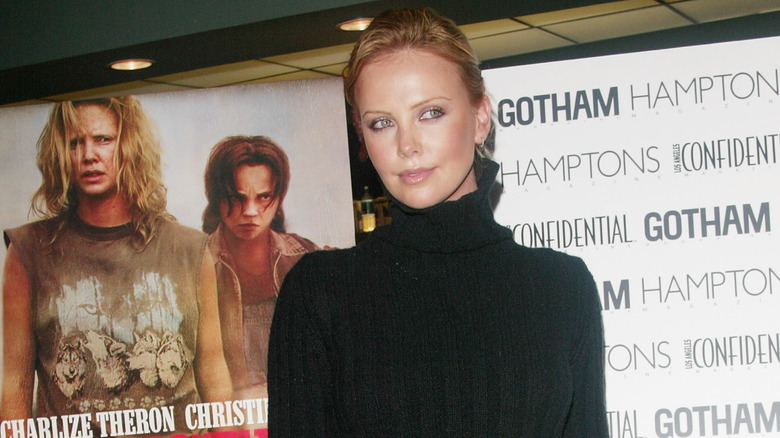 Charlize Theron's role as Helga Svelgen in "2 Days in the Valley" threw her into the spotlight thanks to both her performance and beauty. However, that turned out to be a curse, as Theron quickly understood her roles were largely bound to her being tall, blonde and, well, drop-dead gorgeous. "[P]laying the same part over and over doesn't leave you with any longevity. And I knew it was going to be harder for me, because of what I look like, to branch out to different kinds of roles," Theron told W magazine in 2008.
But Theron met J.J. Harris early on in her career, an agent that believed in her skills beyond her good looks. "I could have just become, you know, a Helga in three other movies and then disappeared," Theron told Variety.
In the late 1990s and early 2000s, Theron continued to land a variety of roles in some commercially successful films, like "The Devil's Advocate" and "The Cider House Rules." Her career reached new heights when she was cast as Aileen Wuornos in "Monster," a role she almost turned down, she told Howard Stern. "I felt like the script was so good that if you were going to do it, you had to do it visually, in a way that felt authentic to who she was, and I didn't know if I could do that," Theron said. But director Patty Jenkins "wouldn't take no for an answer," she added.
Charlize Theron is a single mother to two adopted daughters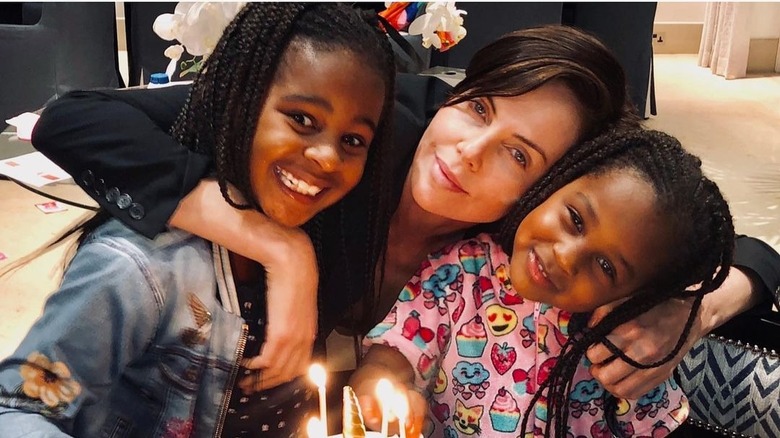 Charlize Theron continued to develop her acting career in the late 2000s and 2010s, working in acclaimed films, like "North Country" (2006), "Young Adult" (2012), "Mad Max: Fury Road" (2016), and "Bombshell" (2020). She also began to dedicate more time to activism. Theron launched her Africa Outreach Project to help fight HIV/AIDS in South Africa in 2007, a year before she was named U.N. Messenger of Peace. Her designation was also a product of her work on ending gender violence, the United Nations noted in 2008. In addition to her formal role in the activism world, Theron has also been outspoken about her support of same-sex marriage and abortion rights. 
Theron is also mother to two adopted daughters, Jackson and August, both of whom are Black and American, she told NPR's Terry Gross. She adopted in the U.S. because she had to adopt in a country that allowed single parents to do so. "I wasn't specific with anything… it just happened to be that both my children ended up being American… [and] they both happened to be African American," she told NPR. 
In 2019, Theron revealed that her oldest, who was assigned male at birth in 2012, is transgender, The Daily Mail reported. "They were born who they are," she said, "and exactly where in the world both of them get to find themselves as they grow up, and who they want to be, is not for me to decide." 
Source: Read Full Article