The star of Tiger King: Murder, Mayhem, and Madness Joseph Maldonado-Passage, also known as Joe Exotic, would have you believe he was a country music star. Many of Maldonado-Passage's eccentric music videos are highlighted throughout the seven-part docuseries. 
In some of his videos, Maldonado-Passage is pictured wearing priest attire. Here's why Maldonado-Passage decided to dress like a priest.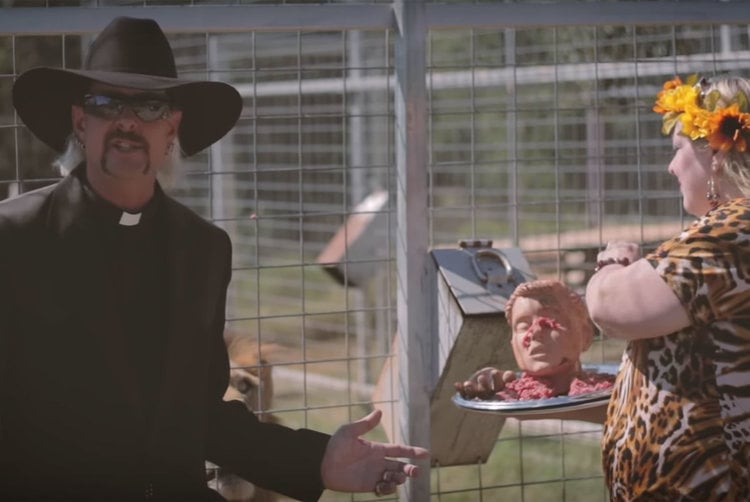 Joe Exotic's country music career
Maldonado-Passage was a man with several interests, including country music. Thanks to Netflix, his most famous songs include "I Saw a Tiger," an ode to his life passion, and "Here Kitty Kitty," a song about Carole Baskin and how she presumably fed her missing husband, Don Lewis, to tigers. 
Maldonado-Passage may have come up with the ideas for his songs, but musicians Vince Johnson and Danny Clinton are responsible for the music and lyrics. Better known as the Clinton Johnson Band, both artists are listed in the credits of the Netflix series. 
In an interview with the Los Angeles Times, Tiger King creators Eric Goode and Rebecca Chaiklin explained how Maldonado-Passage's vocals were featured on certain songs. The duo struggled to determine which songs Maldonado-Passage was featured on, but admitted that a fact-checker told them Exotic could be heard singing on individual tracks. 
Goode also mentioned a deleted scene from Tiger King, where Maldonado-Passage commented: "Of course not every singer sings all his songs, that's just how it's done." It shouldn't come as a surprise that Maldonado-Passage believed anyone could be both a musician and a singer but never actually sing.
Why Joe Exotic dressed as a priest
Mateusz Gugałka, who produced some of Maldonado-Passage's music videos, told Vanity Fair that Maldonado-Passage was insistent on writing and recording videos for his music.
At 22-years-old, Gugałka started working for Maldonado-Passage after moving to the U.S. from Poland. Gugałka recalled how Maldonado-Passage "would not give [him] any notice about shooting music videos." Instead, Gugałka said:
[Maldonado-Passage] would just wake up one morning sometimes…and say, 'We're going to shoot a music video today, because I had a dream, pretty much, of how I want it to look.' Then he would show up dressed like a priest.
It was Gugałka's understanding that the "Tiger King" was "trying to start his own church at the zoo." Gugałka didn't know if Maldonado-Passage wanted to do so for tax reasons or he simply wanted to marry people.
Music videos featuring Joe Exotic in priestly attire
In the video for "Here Kitty Kitty," Maldonado-Passage is wearing a clerical collar. Maldonado-Passage is also seen in his priestly attire holding a newborn in the music video for "Guardians of Children" — a tune about the "bikers who protect abused children in our country." 
Recording music videos wasn't the only time Maldonado-Passage wore his priest look. During the docuseries, Maldonado-Passage can be seen dressed as a priest leading his husband Travis Maldonado's funeral service.
Maldonado met his tragic end with an accidental suicide. Tiger King explained how Maldonado removed the magazine from a pistol to show that it wouldn't fire without it, despite having bullets in the chamber.
It may be some time before Maldonado-Passage gets to fulfill his dream and start his own church. The 57-year-old was sentenced to 22 years in prison for killing tigers and the infamous murder-for-hire plot to kill Baskin.
Related: No, Netflix's 'Tiger King' Joe Exotic Didn't Record the Vocals for His Country Songs
Source: Read Full Article