On March 30, 2020, James Corden will host a primetime special episode of The Late Late Show Starring James Corden called "Homefest." The special will feature musical artists and entertainers from their own homes and encourage viewers to help prevent the spread of the coronavirus (COVID-19). Here's how to watch The Late Late Show Starring James Corden special "Homefest" featuring Billie Eilish, BTS, Dua Lipa, and other stars.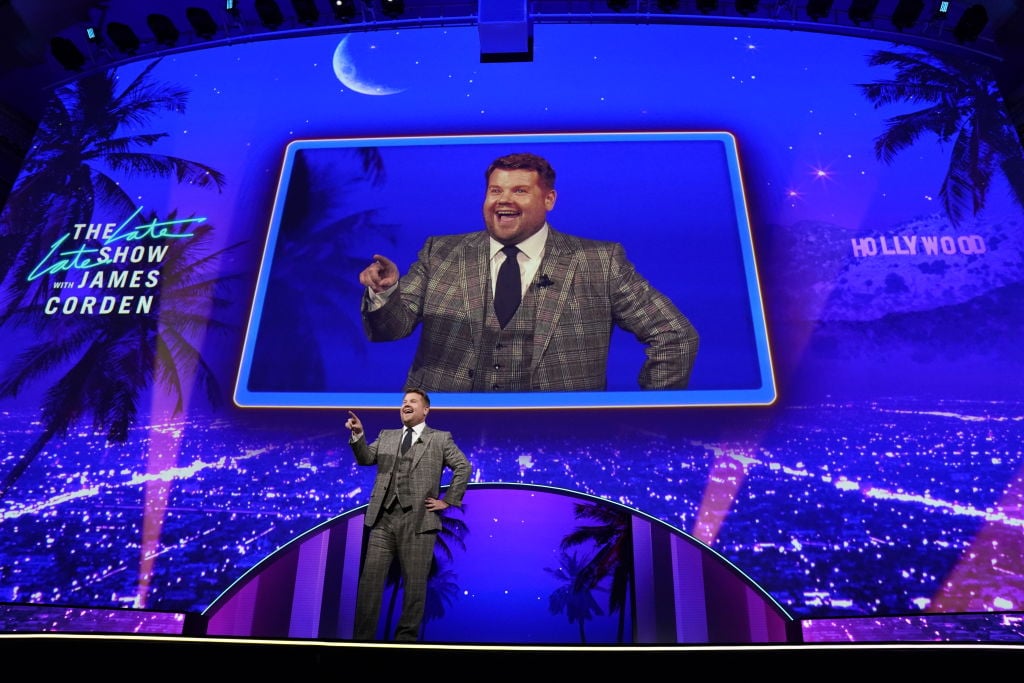 James Corden will host 'Homefest' from his garage
For the "Homefest" episode, Corden will host the episode from his garage. While other late-night shows have switched to digital content like The Tonight Show Starring Jimmy Fallon, this will be Corden's first digital episode of the show since in-studio production stopped due to coronavirus.
"I don't think any of these shows are going to be anybody's finest hour. But I also do think there's a notion where we have to kind of put our heads down and carry on. I think we have to try and show up as soon as we can," Corden told Vanity Fair about late-night shows changing how they are made.
Executive producers of The Late Late Show Ben Winston and Rob Crabbe released a joint statement about the "Homefest" special.
"Since 'The Late Late Show' came off the air, we have been thinking of different ways to try and make a show at this time," said Winston and Crabbe. "We are going to try to put on the best show we can, to entertain, raise awareness, raise money and hopefully lift spirits. Shooting from James' garage may be far from perfect, but under the circumstances we hope it can help someone, somewhere, who needs some cheer right now."
Several artists will perform for 'Homefest'
In addition to Corden hosting the show from his home, artists around the world will perform from the safety of their homes. Dua Lipa will perform from London and BTS will perform from South Korea. Andrea Bocelli will perform in Italy, and Billie Eilish, FINNEAS, and John Legend will perform in Los Angeles. David Blaine, Will Ferrell, and other celebrities are also expected to make appearances.
The primetime special will encourage viewers to follow guidelines set by the Centers for Disease Control and Prevention to help prevent the spread of coronavirus. Corden will also use "Homefest" to motivate viewers to donate to two different charities, Feed the Children and The CDC Foundation.
"Most times, when there would be a fundraiser or a telethon or any of those things, they are in reaction to a finite moment," Corden told Vanity Fair. "This is a very difficult thing to think of in those terms. Because it isn't a finite moment. We don't even know where we are in the graph of it. So much of it is unknown. So it's a really tough one to judge."
How to watch James Corden's 'Homefest'
"Homefest" will air on Monday, March 30 at 10 p.m. EST on CBS. For viewers interested in streaming the primetime special, The Late Late Show is available on CBS All Access, the network's streaming platform. There are multiple subscription options available for CBS All Access, as well as a free trial offer available for first-time subscribers.
Source: Read Full Article