It's official: After putting in years of work, work, work, work, work, Rihanna has joined the billionaire's club. In August 2021, Forbes announced that the hitmaker's net worth was estimated at $1.7 billion, making her the "wealthiest female musician in the world." The only female entertainer valued higher than Rihanna at the time was Oprah Winfrey, which is not bad company. That's definitely a couch we would jump on.
In addition to making money, Rihanna also has no problem giving it away. The philanthropic celeb is known for her generosity, including her $5 million donation in 2020 to help those affected by COVID-19. Since 2012, she has donated and helped raised millions under her Clara Lionel Foundation. Named after her grandparents, Rihanna's foundation continues to support efforts around the world in education and emergency relief.
But while the majority of Rihanna's wealth comes from her incredibly successful and inclusive Fenty Beauty line, it's not the only factor at play in her billion-dollar empire. The Barbados-born singer has been diversifying her portfolio and honing her efforts as a businesswoman for more than a decade, all of which has helped her reach a place in her career where launching Fenty Beauty was possible. Ultimately, Rihanna's global appeal, her ability to anticipate future cultural shifts, and her savvy business mind have all contributed to the multihyphenate's incredible wealth and success. 
So, how did Rihanna make her billions? Let's break it down.
Fenty Beauty by Rihanna makes everyone gorgeous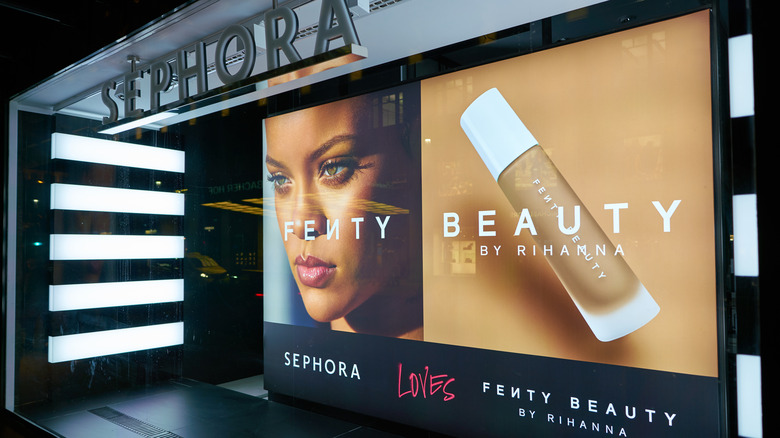 While there's no denying that Rihanna has done an incredible job of dipping her toes into several markets, the biggest bolster to her bank account is Fenty Beauty. The "SOS" hitmaker launched the makeup line in 2017 and quickly appeared set to outsell some of her biggest competitors, including the highly successful Kylie Cosmetics. By the end of its first month on the market, Fenty Beauty reportedly "recorded $72 million in earned media value," per People, which included value gained from public engagement on social media sites like Facebook, Twitter, Instagram, and YouTube.
Fenty Beauty also earned praise early on thanks to its inclusivity, which for the beauty brand meant launching with 40 foundation shades to ensure all customers could find makeup that matched their skin tone. In just over one month on the market, Fenty Beauty's affordable price points and wide range of colors was such a hit with consumers that the brand nabbed a coveted spot on Time's "Genius Companies" list and earned $100 million.
According to Forbes, the beauty company was valued at $2.8 billion in August 2021, with Rihanna, who owns over 50% of the company, taking home approximately $1.4 billion of those beauty bucks. The previous year, Rihanna launched the affordable and vegan line of skin care products, Fenty Skin, as a complement to her beauty line. Considering the massive success of Fenty Beauty, it's fair to say the latest addition to the Fenty line will let RiRi sit back and watch the dollars stack up in the future.
She takes no prisoners in her Savage x Fenty lingerie takeover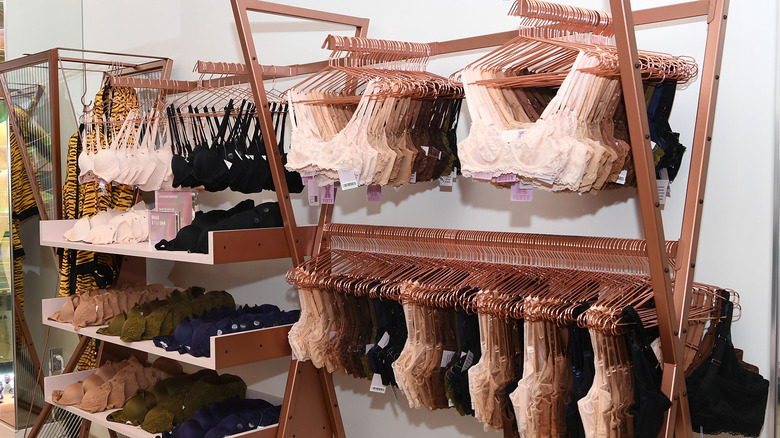 Following the successful launch of Fenty Beauty, Rihanna kept the affordable and inclusive mandate that made the makeup brand one of the biggest in the world and applied the same ethos to her lingerie line. The "Umbrella" singer partnered with TechStyle Fashion Group and brought in several big-name investors, including Jay-Z's Marcy Ventures Partners, ahead of the 2018 launch of Savage x Fenty. Keeping "a 30% ownership stake" for herself, per Forbes, this Rihanna venture has included a wide range of sizes, several nude color palettes, and styles for all genders.
Working with the exclusive fashion house, LVMH, and featuring models of various sizes and races in ads for the line, Savage x Fenty was an instant success and saw a 200% growth in 2020 alone. The high-profile Savage x Fenty fashion events, which have been turned into documentary specials and look more like a musical concert than a traditional runway show, have been praised for featuring a wide cross section of models, including pregnant and disabled models. The relatively new line has also already marked its territory in the lingerie and athleisure world, putting the pressure on well-known brand leaders like Victoria's Secret, who have seen their sales drop considerably in more recent years. 
In February 2021, Forbes valued the lingerie company at $1 billion, with Rihanna's stake in the business coming out to a cool $375 million.
Inside Rihanna's lucrative record deal(s)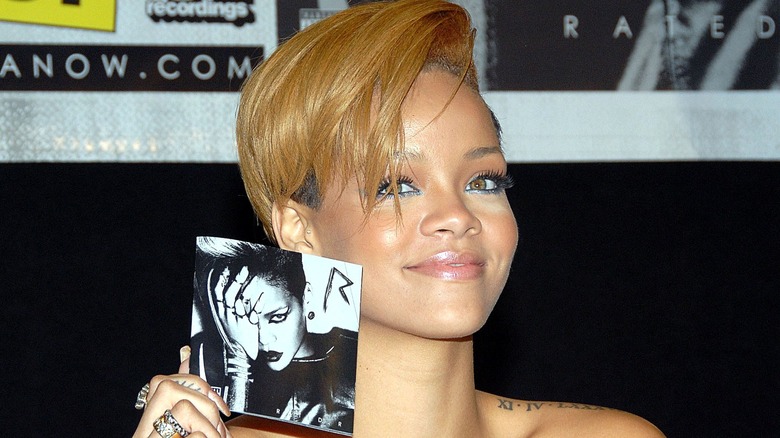 After being discovered by a talent rep who was on vacation in Rihanna's native Barbados, the young singer signed a record deal with Jay-Z and Def Jam back in 2004 when she was only 16. Between 2005 and 2012, Rihanna released seven albums under her contract and fulfilled her obligations to Def Jam. Her early albums were money makers for both the label and the singer, per Yahoo! Money, with Rihanna reportedly gaining $15 million for "Good Girl Gone Bad" and $5.5 million for "Rated R" alone. Rihanna's success on the charts continued, with 2010's "Loud" earning her $12 million and 2011's "Talk That Talk" bringing in $10.5 million for the singer.
Following the release of 2012's "Unapologetic" album, which earned the performer $6.3 million, Rihanna created Westbury Road Entertainment under Roc Nation, and in 2016, finalized the purchase of her own masters. This deal allowed Rihanna to make profits from her music in perpetuity and make decisions on when and how to license her music. The singer's songs have appeared in films like "Hustlers" and "Bridget Jones's Baby" and shows like "Grey's Anatomy," "Girls," and "Empire," helping to bring in more money for the musician. By owning her own masters, Rihanna also gets a cut of all streaming revenue. 
According to Billboard, Rihanna made $10.1 million in 2016 alone from streaming, record sales, and royalties.
She invests in the artist-driven streamer Tidal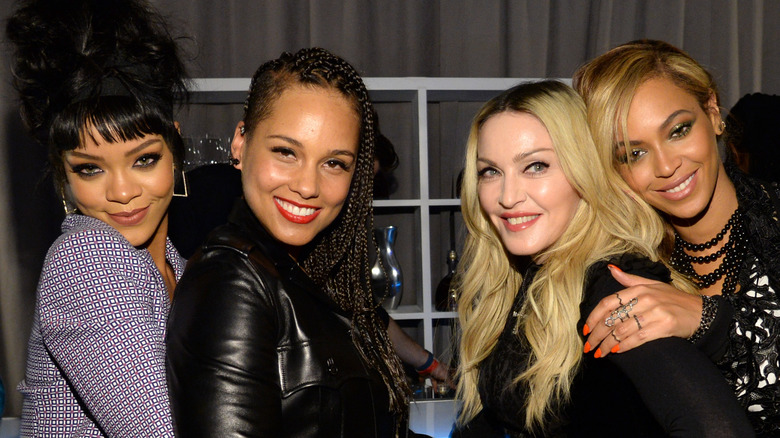 In 2015, Jay-Z was joined by some of the biggest names in music to help announce his new streaming service, Tidal. In addition to wife Beyoncé and longtime friend and collaborator Kanye West, Jay-Z's protégé, Rihanna, was also part of the initial Tidal announcement, which included the singer as one of the many A-list music stakeholders. The service was designed to put artists first and give them a bigger cut of streaming revenue, while also providing the highest quality listening experience for subscribers.
Although Tidal hasn't been the rival to Spotify and Apple Music that founder Jay-Z hoped it would be, the streaming service has continued to pull in some profit. As part-owner, Rihanna is privy to some pretty pennies from the company, which in 2017 was valued at $600 million. As noted by Quartz, that's "10 times its original value," making for an impressive return on investment. 
As one of the 16 original artist stakeholders in Tidal, Rihanna was given 3% equity in the company, which Variety estimated in 2021 would give her a cool $8.91 million payday.
Rihanna's tours take the world by storm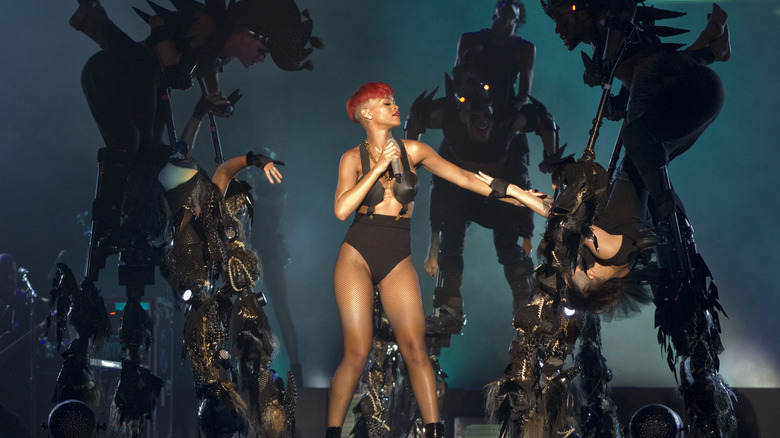 Since her 2006 "Rihanna: Live in Concert" tour, the Barbadian-born singer has traveled the globe as a headliner for six tours, as of this writing. Rihanna has also shown off her world class singing and dancing on two promotional tours, as well as a co-headlining tour with her "Love the Way You Lie" collaborator, Eminem, in 2012 with the "Monster Tour."
Rihanna's collected some serious paychecks from her tours over the years. BET reported that her 2011 "Loud Tour," which included 78 cities, banked $90 million. Two years later, RiRi was back on the road for her "Diamonds World Tour," which included an incredible 96 shows in support of her seventh studio album, "Unapologetic." The tour included performing in front of more than 100,000 people at Singapore's Formula 1 Grand Prix Race Night and, according to Billboard, grossed more than $137 million, making it her highest-earning tour to date. For her more recent endeavor, Rihanna's 2016 "Anti World Tour" brought in $110 million for the Bad Gal. 
As of this writing in 2021, fans are still waiting for Rihanna's highly-anticipated follow-up to her eighth studio album. While there is still no arrival date in sight for a record that fans have referred to as "R9," it's highly likely — considering the singer's continued popularity — that all future tours will be as successful, if not more so, than past efforts.
She should take a bow for her movies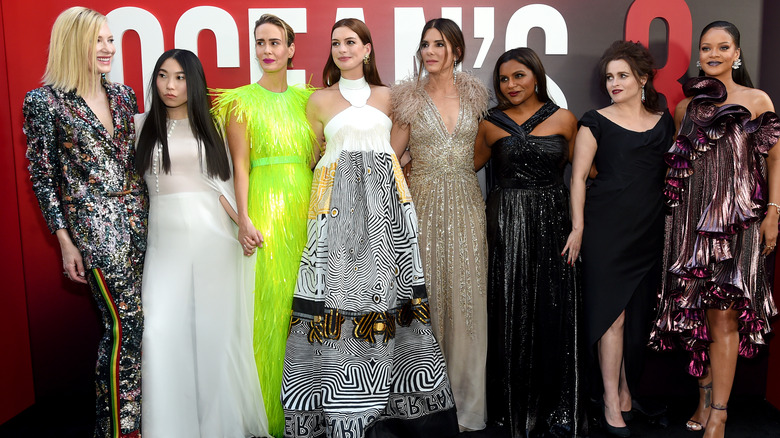 From animated films to all-female heist remakes, Rihanna has been popping up on the big screen for years. In some projects, like 2013's "This Is the End" and 2006's "Bring It On: All Or Nothing," the pop star has played herself. Other roles, like in the 2019 Donald Glover-written "Guava Island" and 2012's "Battleship," have stretched the entertainer's talents as an actor. Rihanna's smooth and silky vocals have appeared in animated form, as well, with the actor taking a starring role opposite "The Big Bang Theory's" Jim Parsons in the sweet 2015 kids film, "Home." And in 2017, Rihanna shocked TV audiences when she took a break from her typical film and music video appearances to play Marion Crane in Season 5 of "Bates Motel."
It's unclear how much Rihanna has made for each role, including her scene-stealing turn as an alien named Bubble in Luc Besson's 2017 sci-fi film, "Valerian and the City of a Thousand Planets." But considering the name recognition RiRi brings to a film — including her involvement in high-profile projects like 2018's "Ocean's 8," which starred Oscar winners Sandra Bullock and Cate Blanchett — we wouldn't be surprised if Rihanna was now pulling in north of seven figures for her acting gigs.
This singer-turned-producer also rocks Styled to Rock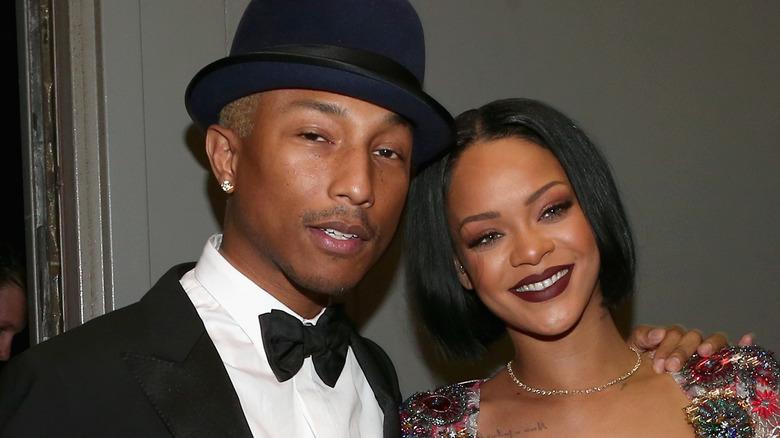 Not only has Rihanna appeared on the big screen and in a one-off appearance on "Bates Motel," but the singer has previously put down some TV roots. Back in 2011, RiRi had a short stint as the executive producer of a fashion design series, "Styled to Rock."
The "Project Runway"-esque show featured 12 budding designers hand-picked by Rihanna to show off their creations to a panel of celebrity mentors, which featured RiRi, fellow musician Pharrell Williams, model Erin Wasson, and designer Mel Ottenberg. Weekly competitions included the designers creating pieces that were tailored specifically for members of the music world, which gave the show a spin that made it unique to other fashion design competitions at the time. "Fashion has always played an integral part in my life and career," Rihanna stated ahead of the premiere (via the Los Angeles Times). "I am so excited to partner with Style Network and share my creative insight with these 12 designers and give them this opportunity to showcase their work."
Unfortunately, the reality competition show only lasted one season, but with Rihanna pulling double duty in front of and behind the camera, it seems likely that she may have pulled in double the paycheck. In addition to adding yet another job to Rihanna's growing resume, "Styled to Rock" also helped solidify her as an entertainer with something to offer behind the scenes and as someone to whom the fashion world better start paying attention.
Rihanna and all those books, books, books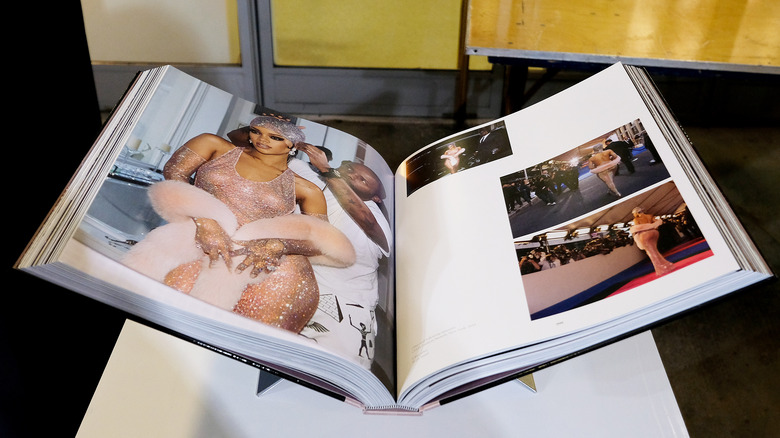 At this point, it should come as no surprise that Rihanna is also successful author, because let's be real, there doesn't seem to be much RiRi can't do. In 2019, the multi-talent announced the release of a coffee table book with Phaidon Publishers. Described as a "visual autobiography," the succinctly-titled "Rihanna" is 504 pages long and includes more than 1,000 photos of the global superstar. Featuring never-before-seen pics of Rihanna from her childhood, as well as her years in the international spotlight, the book tips the scales at an impressive 15 pounds. (Lightweight coffee tables and bookcases need not apply.)
"I am so excited to share this collection of incredible images. I'm very grateful to the talented photographers and artists who contributed," said Rihanna (via Rolling Stone) prior to the book's release. "We've been working on the book for over five years and I'm really happy to be able to finally share it with everybody."
The limited-edition "Rihanna" book is still for sale through Phaidon for $150, but that's not the only option for members of the Rihanna Navy. "Love, Rihanna: Luxury Supreme" is also available for purchase for $1,995 (yes, you read that number right) and "The Rihanna Book: Queen Size" is also up for $1,495. While Rihanna's cut of the book sales have not been published, the singer's involvement in the creation of the "Rihanna" book means she likely received an advance and a percentage of each book sold.
This multihyphenate smells like 'heaven'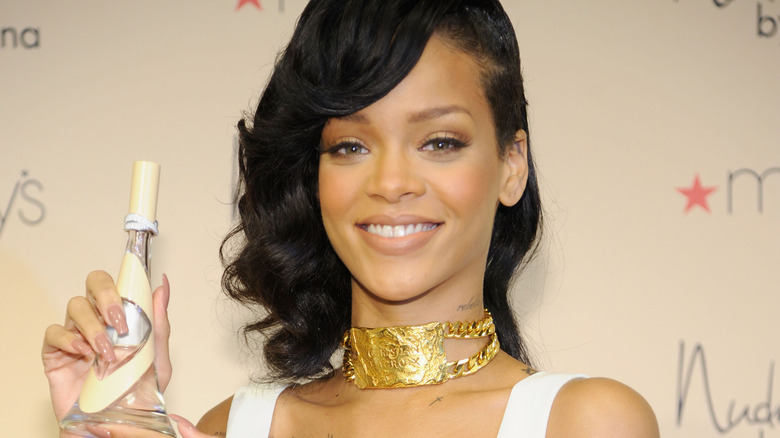 If you're wondering who the best-smelling celeb is in Hollywood, wonder no more. In August 2021, Rihanna tweeted a video of several celebs, including Jennifer Lawrence, Lil Nas X, Cardi B, and Ryan Seacrest, praising the singer's scent. The word "heaven" was used more than once.
The video was the perfect lead-up to Rihanna's first-ever release of a perfume under her Fenty brand, which sold out in only 24 hours. Keeping it in the LVMH family, Rihanna worked with perfumer Jacques Cavallier Belletrud to perfect her signature scent, which comes in an amber bottle. "I wanted a rich color that really represented all genders from across all walks of life," Rihanna told Harper's Bazaar. "Brown is my favorite color. Brown is who I am. Brown is what I come from. If I'm going to make a fragrance that represents me, even the body language of the bottle needs to marry that." To celebrate Fenty Eau de Parfum's success, Rihanna tweeted a picture of herself the day after the perfume's release in bed eating caviar. In RiRi's case, we think she actually woke up like this.
As a 50% owner of Fenty Beauty, selling out of the new fragrance means more money in Rihanna's designer pockets. Of course, Fenty Eau de Parfum is not the first fragrance available under the Rihanna umbrella (ella, ella, eh, eh, eh). The multi-talented entertainer has already released 11 fragrances with Parlux, which the Evening Standard valued at around $80 million.
Rihanna's Puma and Manolo Blahnik collabs kick the competition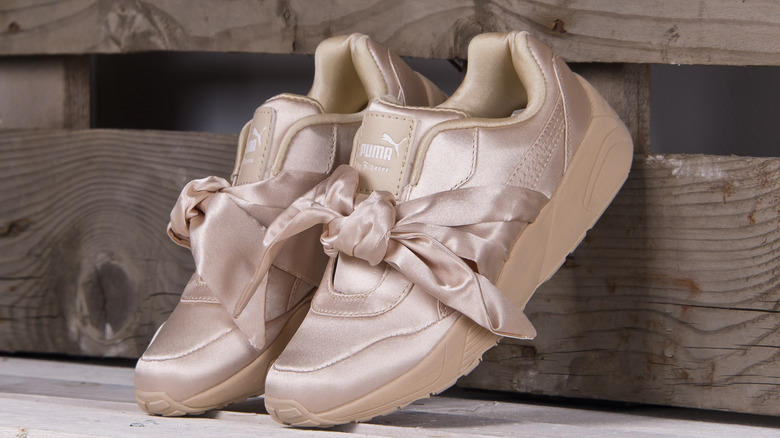 Rihanna's style has made the singer one of the most exciting artists to watch since the release of her debut single, "Pon de Replay," in 2005 — and her impeccable pairing of streetwear with high fashion has not gone unnoticed by big-name brands. In 2014, Rihanna was named the new creative director of athleisure brand Puma. The deal was rumored to bring in around $1 million for RiRi and focused mainly on shoe design, with some special edition tops and bottoms to go along with each new line. The partnership ended up creating several sold-out lines for the athletic retailer, with her third line of Fenty x Puma creeper sneakers priced at $140 per pair and selling out in only 35 minutes.
The hitmaker's creations for Puma marked one of her first professional forays into the world of fashion design, which — as we now know with Fenty — has made a considerable impact on her bank account. Her deal with Puma also helped pave the way for a future collaboration with Manolo Blahnik, which included shoes that sold for more than $2,325 per pair. Rihanna created three lines with the luxury shoe designer, per Vogue, including Savage, Denim Desserts, and So Stoned. The limited edition shoes, for which some pairs took inspiration from Rihanna's famous tattoos, were a hit with buyers. Rihanna did her part to promote the line, including wearing a pair of gladiator sandals from the So Stoned collection in the 2017 music video for DJ Khaled's "Wild Thoughts."
Fenty tries to launch a fashion line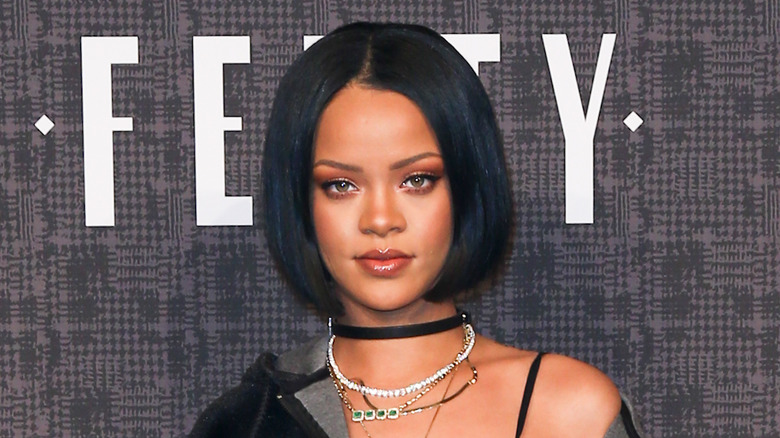 In 2019, Rihanna launched her first Fenty fashion line with the high-end LVMH fashion house, a deal that reportedly earned her $62 million. RiRi's line, which included accessories and ready-to-wear pieces, was LVMH's first collaboration in over 30 years and made Rihanna the "first woman of color" to head a line within the luxury brand, per The New York Times. As a 49.9% shareholder in the Fenty fashion brand (via Paper), Rihanna was heavily involved in the creation of the pieces and had previous design experience thanks to her partnerships with Puma and Manolo Blahnik, as well as her work on the Savage x Fenty lingerie line.
As noted by Forbes, the first Fenty fashion line debuted in May 2019 and included high-priced basics, including $300 hooded sweatshirts and denim jackets with a $940 price tag. In comparison, pieces in Rihanna's hugely successful Savage x Fenty collection start at around $10 and are mostly priced under $40. The initial plan was to release seven Fenty lines in 2019 and six in 2020, but the combination of high prices and the COVID-19 pandemic hindered the success of the joint venture between Fenty and LVMH.
After less than two years, Rihanna and LVMH confirmed in February 2021 that the Fenty fashion line would be put on pause, according to WWD. While the first attempt at a luxury line under the Fenty label didn't take off like the brand's beauty, skincare, and lingerie lines, we wouldn't be surprised to see the always fashionable Rihanna create a new line with more affordable essentials in the future.
Inside Rihanna's rihl-estate dealings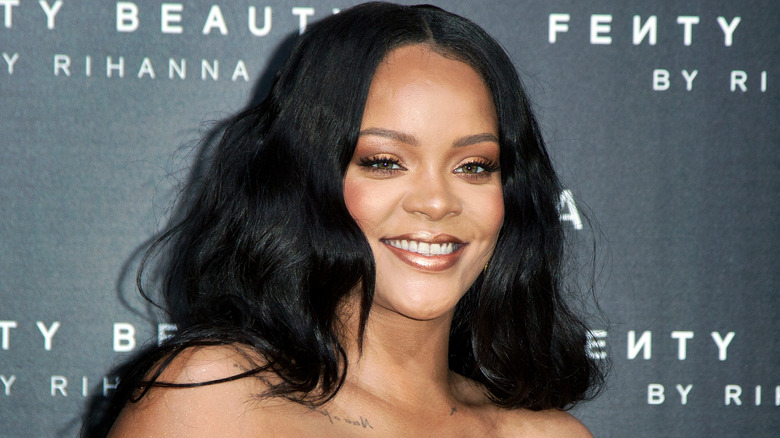 Real estate is all about location, location, location — and when it comes to Rihanna's many homes, the address is always impressive. The singer, actor, and businesswoman owns several homes around the world, all of which are valued into the high millions. Whether she's recording music in Los Angeles, visiting family in Barbados, or enjoying the nightlife in London, RiRi has several places to call home.
In 2014, Rihanna reportedly bought an apartment in Los Angeles for $5.45 million and purchased a condo on Millionaire Mile two years later for just under $1 million, per the Evening Standard. The singer's third L.A. home, a 7,130-square-foot mansion in the Hollywood Hills, which featured a movie theatre and pool guest house, was unfortunately broken into by a stalker in 2018. Rihanna moved out after the home invasion and rented the house for $35,000 per month. She later listed the home for $10.43 million only a year-and-a-half after buying it for $9.47 million (via Vogue). Meanwhile, when Rihanna is home in her native Barbados, she stays in her 10,000-square-foot condo that she purchased in 2013 for $21.8 million.
In 2021, House Beautiful reported that Rihanna made her biggest real estate investment yet, when she purchased a 5,909-square-foot home in the same Beverly Hills neighborhood that has counted Madonna, Tyler Perry, and Paul McCartney as residents. RiRi paid $13.8 million for the home, then bought the house next door a few months later for $10 million. That's one way to ensure you like your neighbors. 
This hitmaker does not love the way accountants lie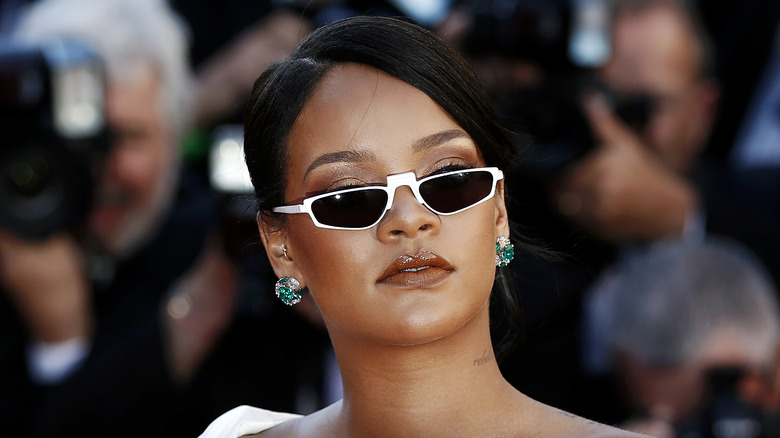 We wouldn't advise lawsuits as a way to add to one's wealth, but sometimes they are necessary to ensure a person's earnings are being properly protected. While Rihanna is now a billionaire, she's endured financial hardships early in her life and career. The road to the nine zero club can be paved with major financial gains and losses. With mo' money comes mo' problems, as the saying goes, and that has previously been the case for Rihanna.
According to documents obtained by Page Six, Rihanna's former accountant, Peter Gounis, reportedly approved the singer's request to buy a $7 million home in Los Angeles back in 2009, even though Rihanna had just experienced a major financial loss. Not only was the "Diamonds" hitmaker low on funds at the time, but Gounis was allegedly aware that the house required extensive repairs to the tune of $1 million and apparently did not disclose that information to his client.
Rihanna later lost money on the sale of the home, and in 2012, she sued her accountant and his firm for alleged bad financial advice. The initial lawsuit was for $35 million in damages. Rihanna was reportedly offered a settlement for $10 million in 2014.
Rihanna has FourFive sponsorships and counting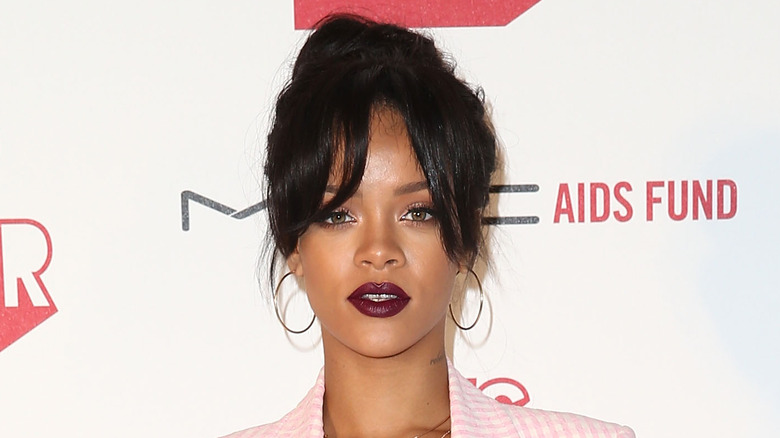 Boasting an incredible 104 million and 102.7 million followers on Instagram and Twitter, respectively, Rihanna remains one of the most-followed celebs on social media. This massive global reach has made the "Stay" singer and her famous face heavily sought after by brands around the world. As a result, Rihanna has enjoyed some of the most lucrative endorsement deals of the 21st century, including her $25 million deal with Samsung in 2016, through which the tech giant sponsored Rihanna's "Anti World Tour," which totaled $110 million in profit.
Rihanna has also enjoyed sponsorship deals with Armani, Stance, Chopard, Nivea, MAC, River Island, and Vita Coco, to name just a few (via Page Six). In 2015, she made history when she became the first Black woman to be the face of Dior. "It is such a big deal for me, for my culture, for a lot of young girls of any color," Rihanna told MTV News about her deal with the major fashion house. "I think to be acknowledged by Dior is just — it means a lot, as a woman, to feel beautiful, to feel elegant and timeless." 
While the money exchanged for most of the sponsorship deals have been kept private, we don't doubt that these endorsements have helped Rihanna amass her incredible fortune — not that she plans to slow down anytime soon. "I never thought I'd make this much money," she told The New York Times Style Magazine in 2019, "so a number is not going to stop me from working."
Source: Read Full Article