Excuse us, but what is going on at Grey Sloan Memorial? With Alex Karev's (Justin Chambers) sudden departure and Andrew DeLuca's (Giacomo Gianniotti) struggles with his mental health, Grey's Anatomy fans have been on red alert for the entirety of season 16. And to make matters worse, it now seems Richard Webber's (James Pickens Jr.) life is in danger. But what's wrong with Richard on Grey's Anatomy? The Shondaland drama has been dropping clues for the past few episodes, but fans are hoping to get some solid answers soon.
[Spoiler alert: Grey's Anatomy Season 16.]
What happened to Richard Webber in 'Grey's Anatomy' Season 16?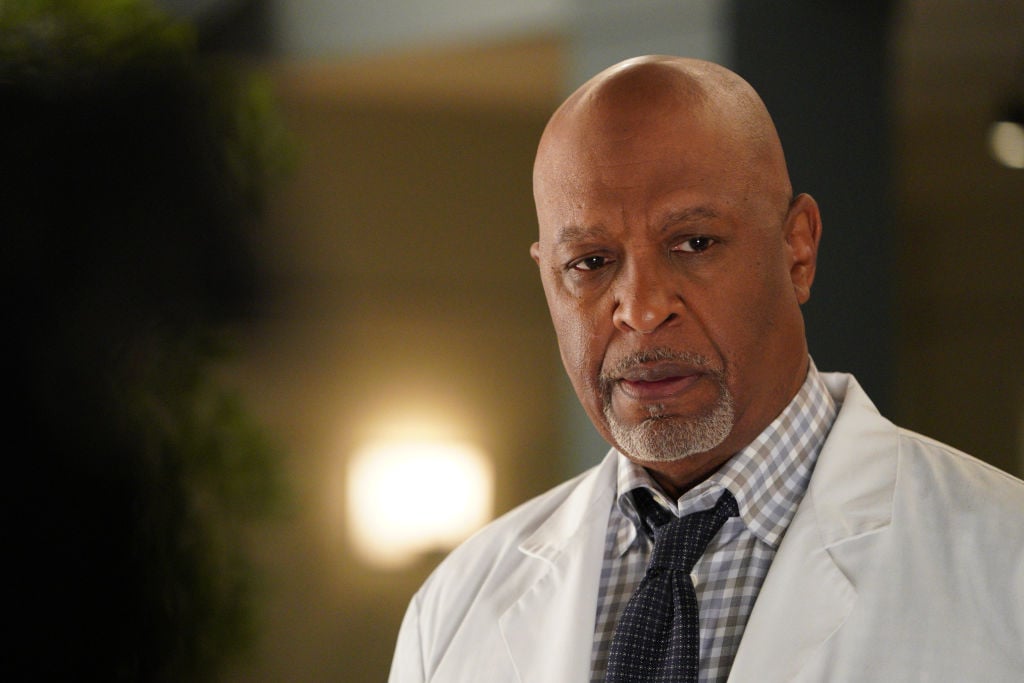 In the Grey's Anatomy Season 16 titled "Snowblind," Richard reveals he has a tremor in his hand to a patient named Tess (Beanie Feldstein). The general surgeon doesn't know whether it's Parkinson's or old age. He also recognizes he won't be able to operate soon.
Then at the end of the episode, Richard gives his stethoscope to Tess, passing the symbolic torch. "I don't need it anymore, but I really hope you do," Richard says.
A few weeks later in "Love of My Life," Grey's Anatomy brings up Richard's condition in the most unexpected way. Throughout the episode, Richard prepares for his presentation at a medical conference in Los Angeles alongside his wife, Catherine Fox (Debbie Allen). But here's the thing — Catherine was just a hallucination.
When Richard gives his presentation, he claims he found a way to cure cancer. Then everything spirals as he rambles on and Grey's Anatomy fans understand very quickly that something is wrong with Richard. Back at Grey Sloan, where the doctors are streaming the conference, Catherine is worried Richard is drunk. However, it seems more than that.
Eventually, Maggie Pierce (Kelly McCreary) approaches the stage to get Richard help. He tries to ignore her at first. Then when Maggie tries to press further, Richard can't recognize his biological daughter. He also tries to resist when Cormac Hayes (Richard Flood) comes down to assist his co-worker.
Finally, Hayes and Maggie shuffle Richard off the stage. Meanwhile, Maggie asks the audience to call an ambulance. She thinks Richard is having a stroke. The video cuts out for everyone in Seattle.
Later, Maggie is with Richard as he is being taken to a hospital. He recognizes her again and asks what's wrong. "I don't know," Maggie says. The episode ends and Grey's Anatomy fans are screaming.
The 'Grey's Anatomy' Season 16, Episode 20 promo trailer shows the doctors coming together for Richard
For now, fans will have to hold on a little longer to find out what's wrong with Richard on Grey's Anatomy. Many viewers wondered whether the surgeon's symptoms align with Parkinson's disease, as Tess thought in "Snowblind." But the ABC drama has yet to reveal the official diagnosis.
That said, Grey's Anatomy Season 16, Episode 20 will likely get us one step closer. In the promo for "Sing It Again," the Grey Sloan Memorial doctors rally around Richard to save him.
"We have a 65-year-old male suffering from memory lapses and erratic behavior," Miranda Bailey (Chandra Wilson) says in the Grey's Anatomy promo. "I'm talking about Richard Webber. He is not the Richard Webber you know and love. He is our number one patient."
Then Meredith Grey (Ellen Pompeo) reveals she could be the hero of this story. "Richard, I can fix you," she says. "Because you are the one who taught me everything I know."
Meanwhile in an interview with Entertainment Tonight, Kim Raver — who plays Teddy Altman — teased what happens to Richard moving forward. 
"In Grey's Anatomy, every doctor comes together in such a fantastic way to sort of figure out and problem-solve what is the problem," Raver said. "It's so terrific and speaks volumes for James' character that he's so beloved. So that is definitely a big chunk of the next couple episodes."
But even so, Raver wasn't able to answer whether or not Richard will be OK. So stay tuned. Grey's Anatomy Season 16 returns on Thursday, April 2. Don't forget the tissues.
Read more: When Is the 'Grey's Anatomy' Season 16 Finale? Krista Vernoff Says the Unexpected Ending Will Be 'Satisfying'
Source: Read Full Article