Last season on Bachelor in Paradise, we saw love flourish, heartbreak take over, and plenty of drama go down on the beach. And one of the most unexpected couples to stand the test of times is Caelynn Miller-Keyes and Dean Unglert.
While Unglert went on the show looking for fun, he ended up leaving with Miller-Keyes so they could pursue a real relationship together. And the two are still going strong. It looks like Unglert is willing to break some of his rules regarding his relationships, too. He once said he'd never invite Miller-Keyes to talk on his podcast, Help! I Suck at Dating …. But now, it seems he's changed his mind.
Caelynn Miller-Keyes and Dean Unglert appear to be totally committed to each other
There are still a few couples who emerged from BIP unscathed. And Unglert and Miller-Keyes have made their very different lifestyles work for both of them. Fans likely remember when Unglert chose to leave Paradise after getting to know Miller-Keyes, as he felt their lives were much too different to ever sustain a romance. But he later came back after having a change of heart — and it was then that their relationship truly began.
Now, it looks like Unglert and Miller-Keyes are getting closer than ever. They frequently post about each other on Instagram, and reports claim Unglert is seriously falling for her. Not only that, but the couple has decided to wear rings. And they won't tell anyone if they're actually married or not.
"They honestly won't tell us for real, which is really funny, but completely true, [but we think] that they had like some commitment ceremony in Europe," Us Weekly reports Bachelor contestant Ashley Iaconetti said. "It's not a legal marriage, but they're, like, committed long term."
Dean Unglert stated he'd never allow Caelynn Miller-Keyes to guest star on his podcast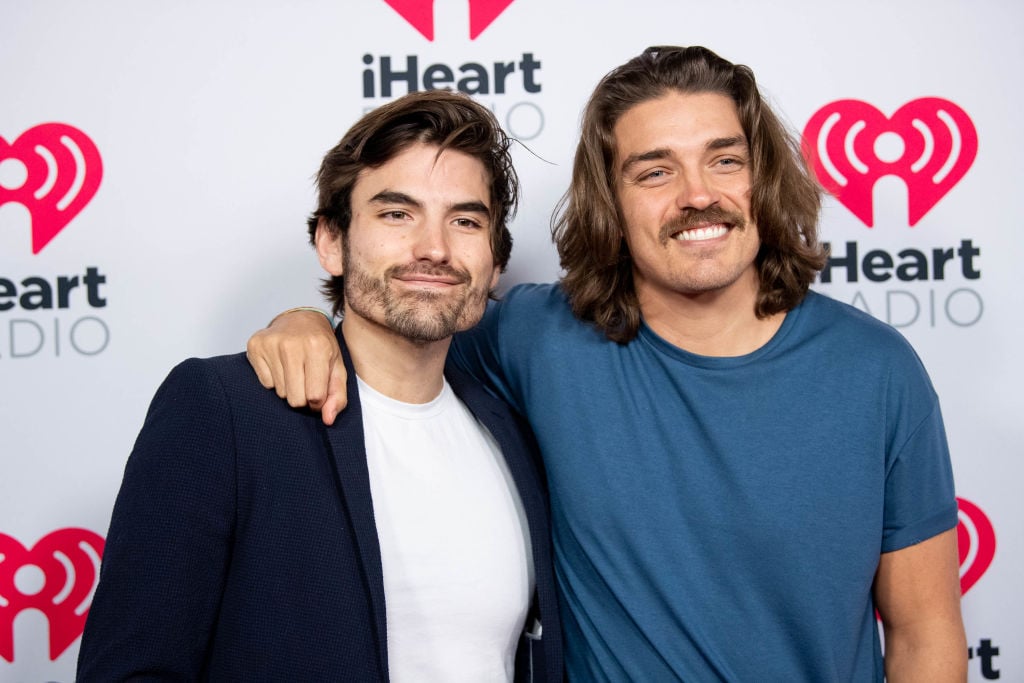 Unglert and Jared Haibon have a popular podcast together — and it often features stars from Bachelor Nation whom fans know and love. But Unglert made a hard and fast rule early on that Miller-Keyes will never make an appearance on the podcast.
The prospect of Miller-Keyes making a guest appearance on the show was brought up prior to the BIP reunion. "I'm never gonna have her a guest on this podcast," Unglert stated when asked by his co-stars.
When pressed further for more information regarding why, he added, "That's non-negotiable. … I don't need other people from the outside looking in judging our relationship that I'm happy in." Unglert noted again, "It's a non-negotiable, she's never gonna be a guest on this podcast and that is final."
Miller-Keyes appeared on the podcast to talk about her relationship
It looks like Unglert broke his rule after all. On April 21, he released an episode of his podcast that featured both Miller-Keyes and Haibon's wife, Iaconetti. And the women talked about their relationships during coronavirus (COVID-19).
"It's not bad. We've got our separate rooms," Miller-Keyes noted. And she also reminded her and Unglert's followers that they have issues just like every other couple.
"I guess I don't post stuff when we're, like, arguing or … sick of each other, but I see other couples and I'm like, 'crap, they're so in love,'" Miller-Keyes added. "And then we definitely have our times where for three hours he'll be in the living room and I'll be in the second bedroom just working and doing our separate things."
Now, it seems Miller-Keyes and Unglert are arguing over furniture. Miller-Keyes said on the podcast that they have very little furniture in her apartment, so considering their space together is their next task.
We're not sure how often Miller-Keyes will show up on Unglert's podcast. But it was a pleasant change listening to her talking about the relationship. We're hopeful that Miller-Keyes and Unglert are in it for the long haul so she can guest star again in the future!
Check out Showbiz Cheat Sheet on Facebook!
Source: Read Full Article