Charter guest Dr. Kim Nichols is doing a little more than running the Below Deck Sailing Yacht crew ragged this charter. She ends up unwittingly flashing a nipple at chef Marcos Spaziani, leaving him a little tongue-tied.
Along with the other guests, Nichols makes ongoing cocktail demands when she arrives on the boat. However, the insistence that she always has a fresh cocktail in her hand leaves her completely hammered for dinner – that's when she ends up flashing a nipple at Spaziani and he has a hard time concentrating on making dinner.
Dr. Kim Nichols realizes she may have a wardrobe malfunction at dinner on 'Below Deck'
The Below Deck Sailing Yacht crew worries about keeping pace with the charter guest demands, especially when it came to deciding on dinner time. Nichols' husband wanted dinner at 10:30, but she demanded it is served at 9 pm. Even though she requested an earlier dinner, it may have still been too late.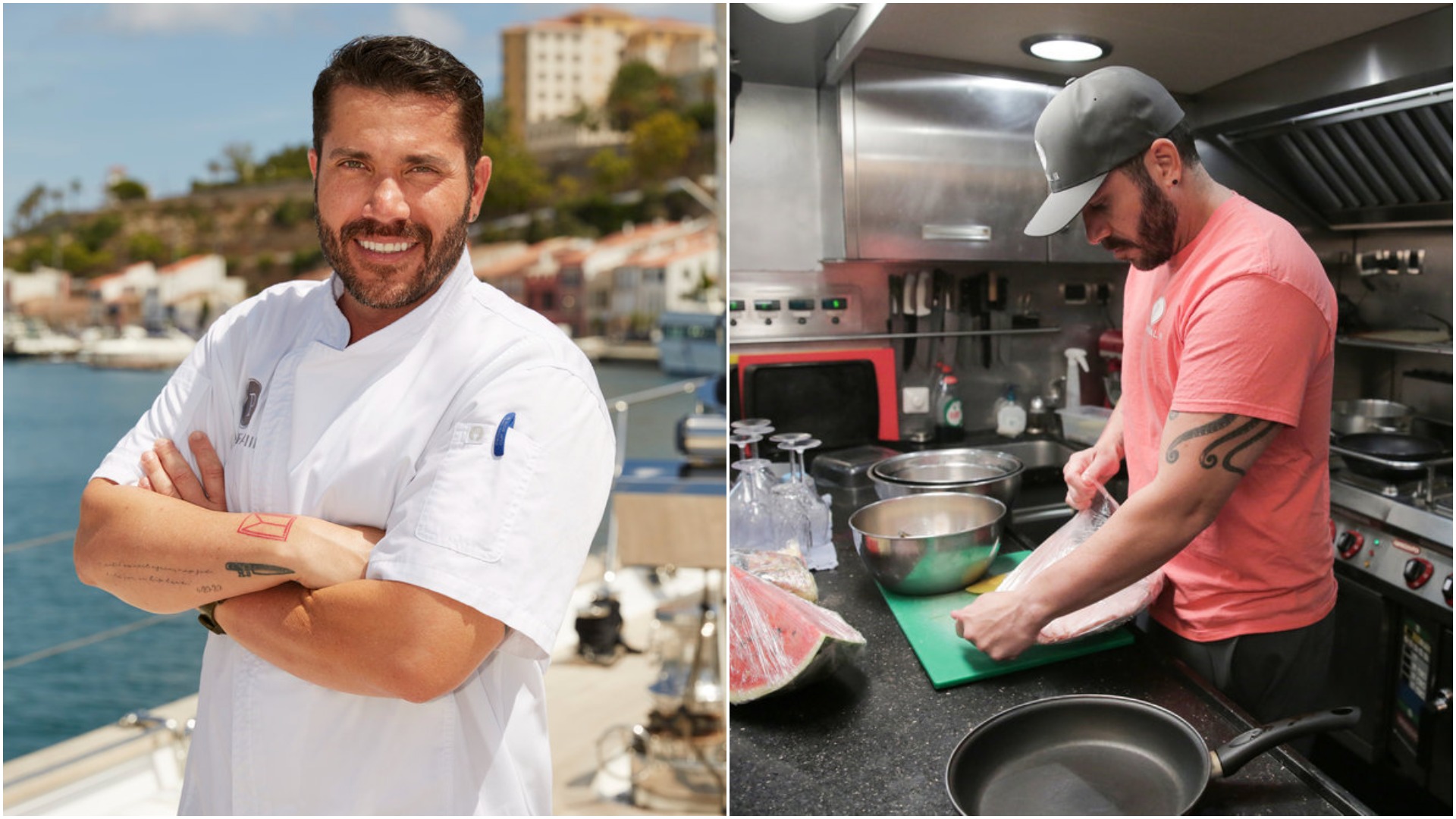 Everyone is dressed and ready for dinner. But as Nichols slides into the booth, she realizes her shirt may be a little revealing. "Keep the ladies inside," she says as her nipple is exposed while she gets situated.
"I'm gonna do a five-course meal tonight because my idea is to entertain them the most I can," Spaziani explains in a confessional. "If they are eating my food, it's gonna be hard for them to complain about the drinks. And the little s***."
Chef Marcos has a hard time explaining dinner
Meanwhile, chief stew Daisy Kelliher is busy making martinis and the guests continue to drink more. The first course is Spanish Tortilla with Chorizo. One of Nichols' guests asks Spaziani for an explanation of the dish but he is suddenly a little tongue-tied when he sees that Nichols's nipple is showing.
"We have …," he says clapping his hands together, trying to gather his thoughts.
"It's hard to concentrate when she has a nipple saying hello, Marcos," Spaziani says in a confessional. "I'm here [laughs]."
Thankfully Spaziani pulls it together. "We have a Spanish Tortilla with Chorizo," he tells the guests.
Nichols comments that the food is "so good" but does not appear to be aware she's exposed at the table.
Kim Nichols is a little drunk on 'Below Deck Sailing Yacht'
Spaziani heads to the bridge and shares that he was left speechless. "She's showing the boob and I was trying to explain the plate, I was like …," he says to Captain Glenn Shephard joking about how he fumbled with his words. "And the middle nipple on the top …" Everyone laughs during Spaziani's comments in the bridge.
Nichols seems somewhat aware she's having a wardrobe malfunction. Especially after another male charter guest suggest she fix her shirt.
However, the nipple is still free when Spaziani delivers the French onion soup to the table. But Nichols doesn't seem to care and gushes about the soup. First mate Gary King helps deliver dishes and observes how it is "so embarrassing" that Nichols seems to be unaware or simply doesn't care that she's exposed at the table.
Nichols then suggests to her husband that they poach Spazani and hire him to be their private chef. "He speaks Spanish, he'd be amazing," she says. Kelliher notices that Nichols is "wasted."
By dessert, Nichols says she doesn't remember most of the dinner. "Did we eat the regular course?" she asks. Nichols then asks Spaziani if he wants a permanent job with them and then grabs at her chest.
"Shake it shake it," Spaziani says in a confessional. "Keep it together."
Source: Read Full Article