Prince Harry and Meghan, Duchess of Sussex's interview with Oprah Winfrey is still a hot topic among royal watchers. Morning show TV host Lorraine Kelly decided to interview the former Suits star's ex-boyfriend and got his take on what Meghan had to say about her life as a senior royal. However, viewers were a little surprised when Kelly said that she thought the duchess's childhood beau was "the one that got away."
Read on for more from the interview and how fans reacted to the host's comment.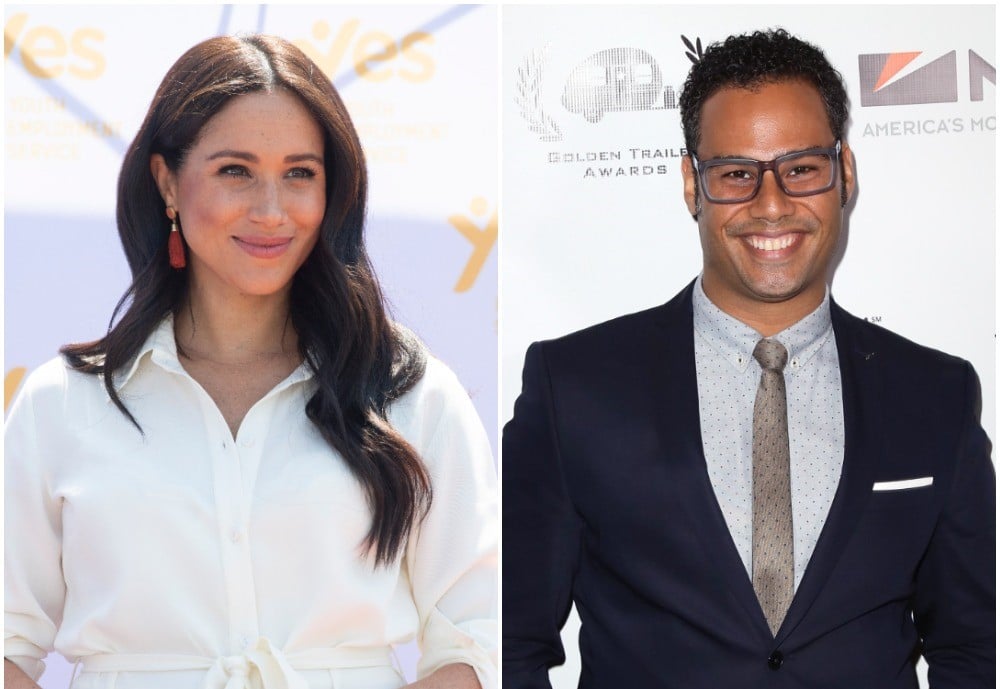 Meghan's ex praised her for interview with Oprah Winfrey
During their chat with Oprah, Megan and Harry alleged that members of the royal family had concerns about their son's skin color before he was born. On May 18, Kelly interviewed Joshua Silverstein who dated Meghan when they were just 13 years old. He applauded the duchess for what she told Lady O.
"Whenever people of color speak out against oppression and racism, genuinely there's a huge backlash so the fact that she got up and spoke about that even knowing it could create a lot of tension between her and her family, I thought that was really courageous on her part," Silverstein said. "The fact that Meghan is able to get on TV and bravely talk about that is awesome."
The palace responded to the allegation saying: "The issues raised, particularly that of race, are concerning. While some recollections may vary, they are taken very seriously and will be addressed by the family privately."
Kelly's saying Silverstein was the 'one that got away' raised eyebrows
At another point during their Zoom chat, Kelly made a comment that Silverstein and viewers weren't expecting when she said: "I know that [Meghan's] got a prince but I honestly think that you're the one that got away Joshua." Silverstein laughed before replying: "I think Meghan and Harry make an amazing couple [and] I definitely could not have found anyone more amazing than my wife Cynthia. She's the perfect partner for me."
As the Express noted, viewers then took to social media to discuss Kelly's "the one that got away" comment with a user asking what's wrong with her and wondering: "How she going to tell Joshua, Meghan's boyfriend she had when she was [a] young teenager, that he was the one that got away. The dude is happily married with kids as is Meghan."
Another commented: "She tried it, he was like… nope."
A third person wrote: "Digging for dirt on #MeghanMarkle #Lorraine interviews Meghan's teen boyfriend. Why? I suspect @lorraine ratings must be dead in the water to stoop so low. Brilliant response by Joshua Silverstein to @reallorraine referring to him as 'the one who got away.'"
Smooth Radio host Angie Greeves also questioned why Kelly even interviewed the duchess's childhood boyfriend in the first place tweeting: "Very confused as to the relevance of talking to Meghan's first boyfriend… from when they were 13."
Silverstein said Meghan running for office would be a 'great' choice for her
Silverstein also brought up the rumors that Meghan may run for office and said that could be a great path for her.
Royal experts have discussed for some time whether or not the Duchess of Sussex has political aspirations.
"You can look at her comments at the United Nations and various campaigns before she married and also her affinity with the democratic party," commentator Richard Fitzwilliams said. He previously praised Meghan for her UN speech in 2015 and her ability to shift into politics telling Express: "There is no doubt whatsoever that this is the sort of speech that would fit perfectly if aimed at a political audience."
Source: Read Full Article