As the coronavirus (COVID-19) continues impacting lives around the globe, one Bay Area-based rapper is considering putting his infamous Based God curse on the highly contagious disease. The rapper posted on Twitter recently that he was thinking about issuing the Based God curse on the coronavirus, though first, he had some research to do on the infection. Namely, Lil' B wants to find out if the virus is "an act of god or if the virus is man-made …"
What is Lil' B's "Based God" curse?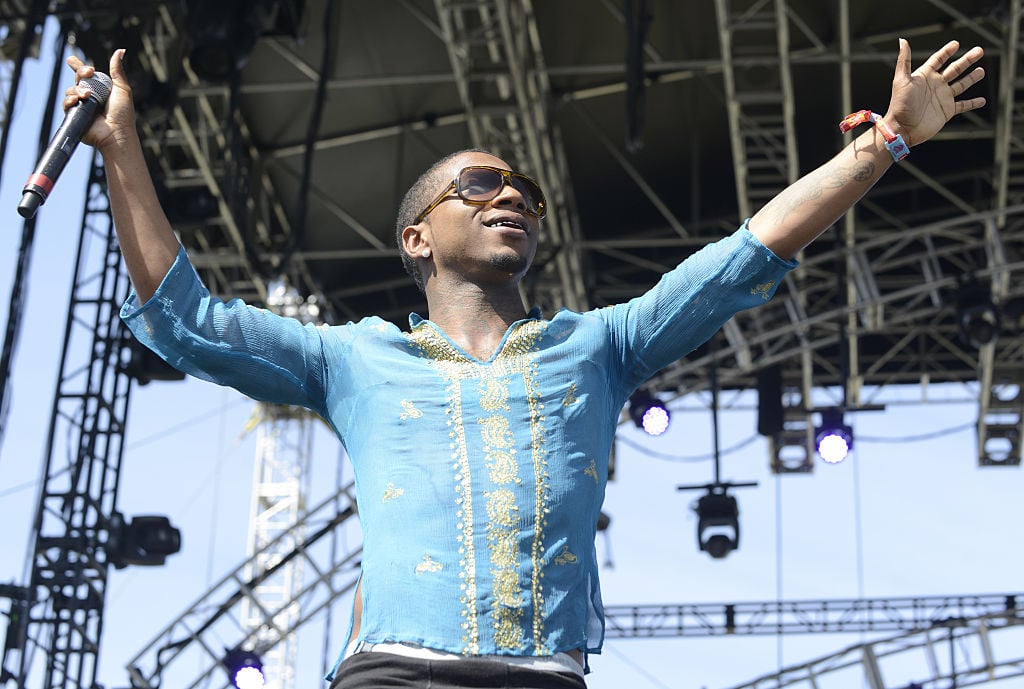 Lil' B often goes by an alter ego named Based God, and part of his alter ego's persona is to put curses on parties that have allegedly done wrong to him. Lil' B elaborated on the Based God curse during an interview with DX: "Right now, everybody's good, but Lil B can't curse," he said. "The BasedGod curses. I just let folks know. Don't put the blame on Lil B. No, no, no." 
So, apparently Lil' B himself can't set a curse on anyone — only his alter-ego, Based God, can.  The alter-ego Based God is built around a lifestyle which Lil' B called "based," a term which denotes positivity and tolerance, so perhaps his curse is designed to eliminate those things in the world that are not positive, such as the coronavirus. 
Who has Lil' B put his curse on before?
Lil' B infamously put his curse on Kevin Durant after Durant allegedly called B "a wack rapper." Page Six reports, "His most famous victim so far has been Kevin Durant," and goes on to say, "Fox Sports has a rundown of Durant's time under the curse, which involves a 3-1 blown Finals lead as well as a Jones fracture in his foot."
So, some may choose to believe that the Based God curse really works. But the truth is, Lil' B, or rather, BasedGod, hasn't put a curse on anyone or anything in a while. Prior to thinking about cursing the coronavirus, Lil' B actually seemed to be living out his "based" lifestyle and spreading positivity, because his most recent curse-related activity was in 2018, when he decided to lift his curse from Houston Rocket James Harden.
Lil' B explained that he had met Harden and some friends, and after that, made the decision to lift the curse. DX writes, "Huge announcement, man," [Harden] said on Instagram at the time. "Courtesy of the mob, mob ties, Rap-A-Lot. Hey, James Harden, shout out to Houston. The curse is officially done. Mob ties, they made it happen. Shout out to J. Prince Jr." 
Why is Lil' B cursing the coronavirus?
When it comes to the coronavirus, Lil' B seems to be taking a slightly more serious and forceful tact. Apparently, according to an interview with HipHopDX, Lil' B is already making plans to research the virus and gain access to educational materials that will allow him to become more knowledgeable about what's really going on. In fact, he even revealed that he is planning to meet with a doctor on the frontline as soon as possible who can further educate him on how to handle the challenging and unprecedented situation.
In the interview, Lil' B says, "The curse is as real as the cure. I am going to talk to a doctor soon who is with patients that have COVID-19 and get more information if I should put a curse on this virus. Also, I'm going to get more information if this is an act of God or man-made. Stay tuned." 
At the least, it's reassuring that Lil' B is doing his due diligence when it comes to getting informed about the disease and the potential impacts it could have. Then, we presume, we'll get to find out if the Based God curse needs to be released or whether we'll manage just fine without it.
Source: Read Full Article