Scott Disick asks whether she's getting Tristan's "sausage" while living together with Thompson's brother Amari, before a producer and Kris wonder how she'll react to him moving out.
As Khloe Kardashian's situation with ex Tristan Thompson continues to evolve, she continues to clarify where things stand between them on new episodes of The Kardashians.
Thompson temporarily moved into Khloe's home amid repairs on the roof of his own house. The move came after the death of Thompson's mother, which led to Tristan also gaining custody of his younger brother Amari, who uses a wheelchair and suffers from severe epilepsy.
As Khloe explained on this week's new hour of the Hulu show, Thompson could have gotten a hotel, but that wasn't the best scenario for Amari's care needs and she wanted to help alleviate any stress for Tristan's family. Being there for Tristan and Amari during this difficult time was a familiar position for Khloe, who then reflected on Lamar Odom's recovery following his overdose.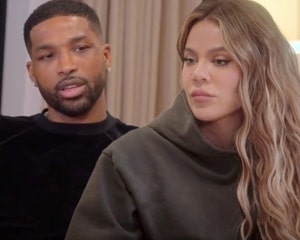 Khloe and Tristan Have Brutally Honest Convo About His 'F–ked Up' Actions, Possible Future
"I don't know if this sounds really dark or if anyone would really understand this, but I'm gonna say it. I feel I'm equipped with the tools because of what I went through with Lamar, who couldn't walk, who was bedridden, who couldn't speak for months," she explained, relating Odom's condition to that of Tristan's brother.
"With my ex husband, when he was in his coma, some of the doctors were like, 'He can't hear, he's brain damaged,' and I would play music I knew he likes and I would always talk to him," she recalled to Tristan.
"When he was able to talk, he would say, 'I heard everything you would say, I would try to talk to you.' So who knows how much Amari knows," she added, something which appeared to give Thompson some comfort.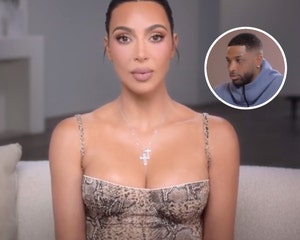 Where Kim Kardashian Stands with Tristan Thompson After Scandals: 'Gonna Hate Me for This'
The conversation came after Khloe's living conditions came up as she had a gossip session with Scott Disick earlier in the episode. He wondered whether living together brought them closer, following their past fallout over his cheating and paternity scandals.
"Him and I are great friends," she said, before Disick wildly wondered if she was "getting that sausage" or some "little side action" while sharing a home. She gave him a very telling reaction that clearly meant "absolutely not," before clarifying that they do not sleep in the same bed or even the same room.
She added that she's set clear boundaries with Tristan, saying they're simply "great friends" right now. In a confessional she added, "I don't know what 5-10 years will bring. If he's my person, then he's meant to be my person. But right now, I'm not gonna make my life any harder than it has to be so yes, I am gonna have as much of a seamless, fantastic coparenting relationship that I can."
Khloe also told Scott she didn't "have the f–king energy" to date, feeling like she's in a real-life version of Groundhog Day where the busy days just keep repeating themselves.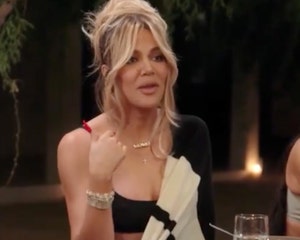 How Khloe Kardashian Just Made It Very Clear She's Not Dating Tristan Thompson
Elsewhere in the hour, Tristan also caught up with Kris Jenner, as he thanked her for helping broker his on-air gig with ESPN. She explained that she reached out to ABC and Disney herself to advocate for Thompson, believing they would "really benefit" from his talent.
"We know Tristan has made some mistakes. I know he's really sorry for the way that he hurt Khloe and I'm sure he regrets all of those mistakes every single day," Jenner added in a confessional. "Really, the most important thing for everyone right now is raising those kids and I worry that Khloe, with this change of Tristan moving out, there is going to be a void there."
The hour ended with a producer echoing those thoughts, asking Khloe whether she was truly "prepared" for him to move out. "I don't know, I don't know," Kardashian replied.
See how the saga continues as new episodes of The Kardashians drop Thursdays on Hulu.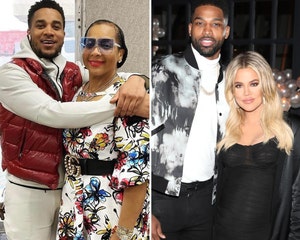 Tristan Thompson's Brother Defends Khloe Kardashian After He's Accused of Shading Her on Social Media
Source: Read Full Article