Late-night television returned with new shows for the first time in five months and Stephen Colbert, Jimmy Kimmel, Jimmy Fallon, Seth Meyers, and John Oliver had a lot to say about the end of the writers strike — and all they've missed since May!
And just like that, late-night television is back and playing major catch-up in their first night after five months away. It was a whirlwind of coverage for Jimmy Fallon, Jimmy Kimmel, Stephen Colbert, Seth Meyers, and John Oliver now that the writers strike is over.
As soon as the WGA went on strike in May, the late-night shows all went dark. Our nightly coverage of the weirdest and wackiest things going on in the world was gone, and boy could we have used them to help process some of the craziness of the past five months.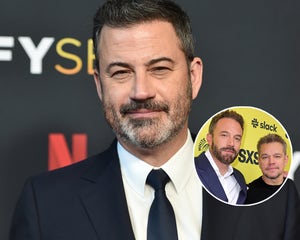 Jimmy Kimmel Was 'Intent' on Retiring Before Strike, Affleck and Damon Offered to Pay Staff
Luckily, they returned with the intentions of doing just that. This meant a full-episode "A Closer Look" for Seth Meyers on Late Night. Stephen Colbert gave us a super-sized monologue to make up for it on The Late Show, while Jimmy Kimmel Live! made up for lost time with a whole slew of Trump jokes — and the one Trump story that almost made him cross the picket line!
Everyone seemed determined to way in everything from Trump's indictments, arrest and mugshot to Lauren Boebert's friskiness getting her in trouble at the Beetlejuice musical. And of course they couldn't resist cracking jokes about how long they were gone by comparing The Bachelor on the air when they left to The Golden Bachelor on the air now.
The quintet also weighed in on the hard work done by the WGA negotiating committee, while lamenting that it took so very long to finally get a fair deal for the writers.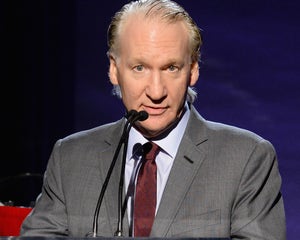 Bill Maher Says Writers Aren't 'Owed a Living,' Doesn't Know How Late-Night TV Has Survived
LAST WEEK TONIGHT WITH JOHN OLIVER
Unable to render YouTube Video.
John Oliver was first out of the gate with a new episode on Sunday, padding his show with an extra ten minutes to try and tackle a lot of what was missed before his usual deep dive into a more specific topic (this time prison medical care).
After burning through some of the biggest stories of the past five months, Oliver turned to the strike itself, lamenting, "I'd have loved to have covered all of these stories back when they originally happened. I wish so much I could have told you these jokes at the time, but I couldn't because our writers, the people who wrote those jokes, were forced to strike for a fair contract for the last five months."
He went on to say that the strike happened for "good reasons," saying that workers in the entertainment industry have been "squeezed in recent years," adding, "You've probably seen stories about writers and actors whose work you may even recognize routinely not making enough to qualify for health insurance or afford basic needs."
"While I'm happy that they eventually got a fair deal and am immensely proud of what our union accomplished," Oliver said. "I'm also furious that it took the studios 148 days to achieve a deal they could have offered on day f–king one."
The comedian's opening monologue isn't available online, but you can see what it is that he does by checking out his deep dive into the terrible state of modern prison medical care in the clip above.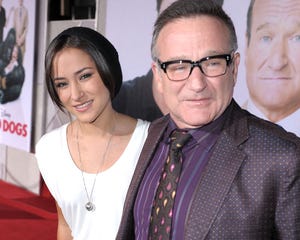 Robin Williams' Daughter Zelda Speaks Out Against 'Disturbing' Use of AI to Recreate the Late Actor
THE LATE SHOW WITH STEPHEN COLBERT
Unable to render YouTube Video.
Unable to render YouTube Video.
Stephen Colbert broke down a little of what the writers were fighting for in his lengthy monologue, noting, "Now the writers strike is over with a new contract that includes protections against AI, cost of living increases, better pay for streaming."
He went on to joke, "Plus, thanks to the picket lines, my writers got fresh air and sunshine and they do not care for that. Now they're back safely in their joke holes doing what they do best, making my prompter word screen full of good and haha."
After some sincere thanks for his own team and all the hard work that goes into making his show, and true appreciation for the team around him, Colbert got down to the truth that there are so many stories he missed.
"Obviously it would be stupid to try to recap everything that happened over the last five months," he admitted. "So here we go."
Seriously, he went all the way there, and it took two segments to get there, which you can watch above.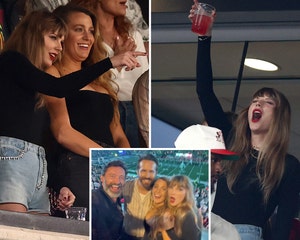 Best Viral Moments & Reactions from Taylor Swift's Star-Studded Sunday Night Football Appearance
JIMMY KIMMEL LIVE!
Unable to render YouTube Video.
Jimmy Kimmel came out and reintroduced himself to the audience, just in case they'd forgotten who he was. "We missed so much good stuff," he lamented. "Donald Trump got arrested four times while we were on strike. Once for the classified documents, once for interfering with the election, once for January 6, and once for shooting Tupac, allegedly."
The usually political Kimmel said that one of his writer's mothers actually texted her son and asked him if they could please not do Trump jokes all night now that they're back. To this, Kimmel told her on the air, "Sorry Josh's mom, that is a no can do. I am backed up like you would not believe!"
He then went on several tirades about the former president, including the one moment he almost said broke him. "The one that really got me is when they booked Trump in Georgia and he self-reported his weight at 215 pounds," he said. "I almost crossed the picket line for that."
"If I was the judge in the case we got going on in New York right now, I'd start the trial, I'd say, 'Listen, look, we're gonna get to the fraud thing, but first, hop up on this scale, big fella,'" Kimmel quipped. "He's either lying or the colonel is frying his chicken in Ozempic."
As for the strike itself, Kimmel took a few moments to thank the crew and all the unions for their support of the writers and their hard work on behalf of workers everywhere.
"Thanks largely to them, this is a big win for the little guy," he said. "And a big win for the chubby guy and the hairy dude and the weird girl that doesn't make eye contact, for the two potheads in the Star Wars t-shirts that are too small for their bodies, and the guy who's too old to have a ponytail, and the lady whose cats each have their own Instagram page, or as we call them, writers, and they are all back to work, thank goodness."
Kimmel also kicked off his show by coming onto the stage to a pickleball game in mid-session. Ultimately, he threw them off and got on with things, but it was an idea echoed on another late-night show.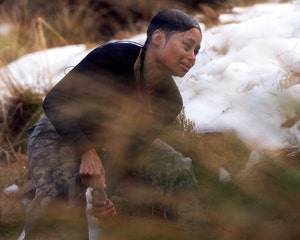 Blac Chyna Gets Reprimanded Over 'Attitude' Issues on Special Forces, Breaks Down & Quits Over Challenge
THE TONIGHT SHOW STARRING JIMMY FALLON
Unable to render YouTube Video.
Jimmy Fallon didn't have any amateur athletes to contend with, but he did joke that the studio "was empty for so long, NBC converted it to a Spirit Halloween."
In his usual setup-punchline format, Fallon also celebrated returning to work after so much time off. "I am so excited to be here," he said. "Seriously, I'm more excited than a guy seeing Beetlejuice with Lauren Boebert. I'm more excited than a Jets fan during the first three plays of the season."
He praised the WGA and the writers for standing strong until they got the deal they wanted. "You gotta hand it to them," he said. "Only writers would spend all summer fighting to back to the office. What do we want? To go back inside. We're not beach people."
But, even Fallon was feeling that things might still be a bit shaky after all that time off. One bit that fell flat was when they had their own Bono come onto the stage in a sphere, to celebrate the launch of their Las Vegas residency in the new Sphere venue. Only, Fallon's whole bit was kind of a mess that seemed to be failing minute by minute until finally fake Bono had to run through the studio audience to escape.
"I should mention, not all the writers are back," he joked. "I should have mentioned that earlier. Baby steps, baby steps. You ever wish you could unsee something?"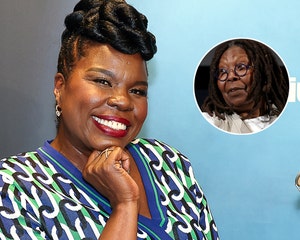 Leslie Jones Says Lorne Michaels Wouldn't Let Them 'Shoot' Whoopi Goldberg on SNL
LATE NIGHT WITH SETH MEYERS
Unable to render YouTube Video.
Before basically devoting his entire show to "A Closer Look" to break down the past five months, Seth Meyers kicked things off with some words about the conclusion of the WGA strike that allowed he and his fellow late-night hosts to return to the air.
"I wanted to take a moment to say how grateful I am to be back here with you tonight," he told his team and audience. "I never take this show for granted, but being away from it for as long as I've been away from it, really hits home how much I love having this as a workplace."
After thanking everyone involved in fighting for a fair deal, he said he was so excited to be back in a room working with his writing team.
"I was so happy to see them this morning. I will admit by lunch I was a little over it," he said. "They're really talented, they just have a ton of opinions. They're like, 'Maybe it would be funnier if you said it like that.' It's not how I say it. Stop blaming it in how I say it."
You can check out his full breakdown of the last five months in the "Max Edition" of "A Closer Look" below.
Unable to render YouTube Video.
Source:
Read Full Article