Beverly Hills, 90210 star Christine Elise said she was "embarrassed" after sounding off on the saga between Jessica Alba and her former co-stars.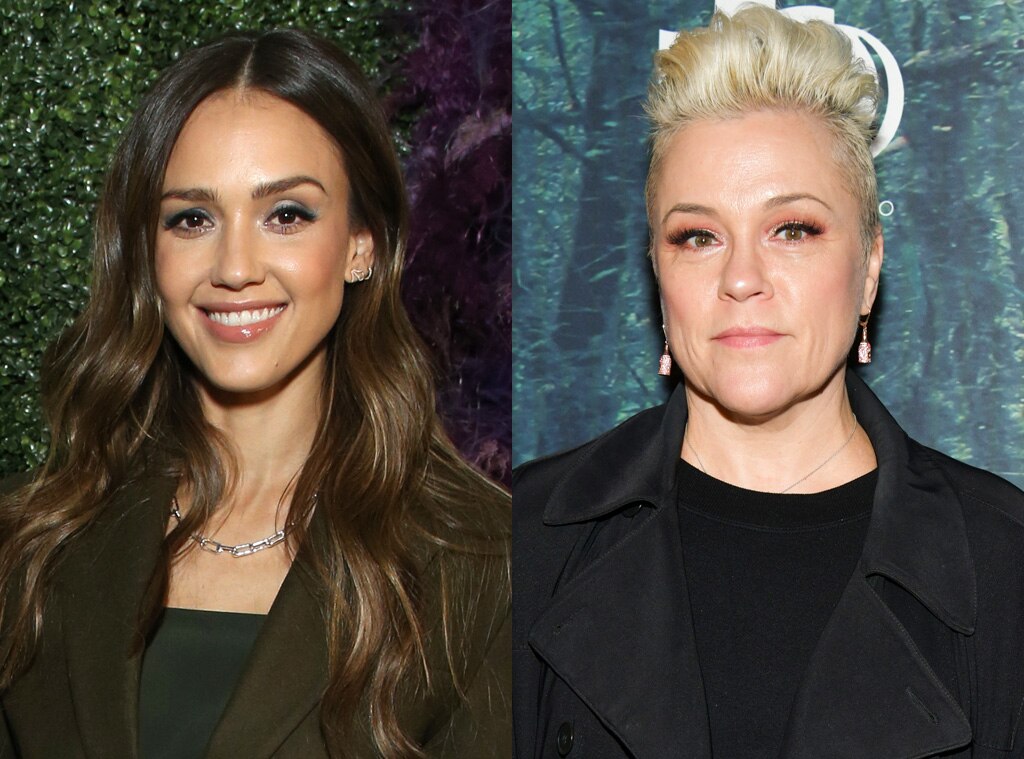 Christine Elise is standing by her assertion that Jessica Alba told a "f–cking lie" about her experience on the Beverly Hills, 90210 set, but she's apologizing nonetheless.
The actress, who starred in 12 episodes of the series, said in a statement posted to her Instagram on Oct. 22 that her colorful language is not a reflection of her feelings toward the Honest Company owner.
"First of all—I have never met her but have always admired her work," she assured. "I am certain she is a lovely woman."
Christine then said that her remarks on the Beverly Hills, 90210 Show podcast were taken out of context by the media. She explained, "Secondly, anyone who knows me at all knows that I swear with unapologetic abandon, so quotes read without tone of voice can be misinterpreted and seem more angry than they ever were."
However, the actress said that Jessica's account of what happened on set "does not sound like the set I was on," explaining that her work as an actress and writer on the show, in addition to living with Jason Priestley, makes her knowledgeable on this subject.
And she noted that her co-stars also voiced their doubt about Jessica's claims. Though, Christine confessed, "They were more diplomatic than I was."
Christine also said she was upset by Jessica's remarks because it was an "inaccurate and unjust representation" of her friends and former castmates. As she put it, "Perhaps she was misquoted or the remark was taken out of context but—left unanswered—it implies that the entire cast engaged in unprofessional diva behavior & that they were unwelcoming to guest stars."
But again, the actress said she's "embarrassed" she got involved in the drama, adding, "Apologies to Jessica Alba."
Trending Stories
Ghislaine Maxwell's Claims on Jeffrey Epstein & Prince Andrew Revealed
Bachelorette Clare Crawley Reacts to Getting Called Out on Prom Claim
See Camila Cabello's Dramatic Short New Look
To see how the rest of the cast responded to Jessica's claim she was forbidden to make eye contact with them, check out the gallery below!
While appearing on the Oct. 1 episode of Complex's Hot Ones challenge, Jessica detailed her experience on Beverly Hills, 90210.
"On the set of 90210, I couldn't even make eye contact with any of the cast members, which was really strange when you're, like, trying to do a scene with them," the star explained. "It was like, 'You're not allowed to make eye contact with any one of the cast members or you'll be thrown off the set.'"
So what did the cast have to say about the allegation? Keep scrolling below. 
"'Don't look at the stars of the show' was never an edict that came down on our show," Jason recalled on Oct. 6 during an interview on KiSS 92.5's The Roz & Mocha Show.  "I don't know who told Jessica Alba not to look at us. We never thought we were MC Hammer."
"I don't know what Jessica Alba's experience was coming on our show as a guest star," he reiterated. "I know that certainly…I never would have made her feel that way."
"Like, if anybody was, you know, didn't want to have their eyes looked into, it would have been me," Jennie confessed on her new iHeartRadio podcast titled 9021OMG. "But, I don't remember because I have the world's worst memory." 
Jennie continued, "I only have, from the vague memories I have of working with her, I only remember her being super talented. She was very young. She was really sweet, and it does not surprise me that she's gone on to be so successful."
"I don't think she heard that from anyone reputable, like that was really around us because that wasn't ever our policy on set," Brian proclaimed while appearing on SiriusXM's The Jenny McCarthy Show. "The one thing that we really were good about on our set was making people feel welcome and feel like they were a part of the family and what we were doing and they were a part of the team. So I can't, I can't imagine that at all."
He later joked, "Jenny was like, 'I f–king wondered why she wouldn't look me in the eye.' She must have been bummed about it." 
"I'm not going to lie to you guys: I was a little horrified when I saw that clip that she said that she wasn't allowed to make eye contact and she had an awful experience because her baby wipes are my favorite," Tori shared on her iHeartRadio podcast 9021OMG when praising Jessica Alba's Honest Company. "Like, I wipe my child's ass with her baby wipes every single day. I'm so upset right now."
"I can't for the life of me ever imagine a situation where any of the actors would ever say that," Ian shared during an Oct. 6 appearance on Access. "I'm not doubting that was her experience. It saddens me because it lessened the experience for her—certainly didn't slow her down in life—but it's hard to hear that there was any negativity on the set."
The actor continued, "If I had known about that I would have shot that down immediately… I didn't even work with her that day but I would've went right over to her and said, 'How are you doing?'"
Source: Read Full Article