If there's anything we know about the women of Jersey Shore, it's that they are extremely blunt and have no problem sharing their thoughts and opinions.
So we weren't surprised to see Nicole "Snooki" Polizzi, Jennifer "JWoww" Farley, Deena Cortese, and Angelina Pivarnick reveal their celebrity crushes in a new interview. But you've probably never seen the stars — who are all in committed relationships, by the way — go all out like this.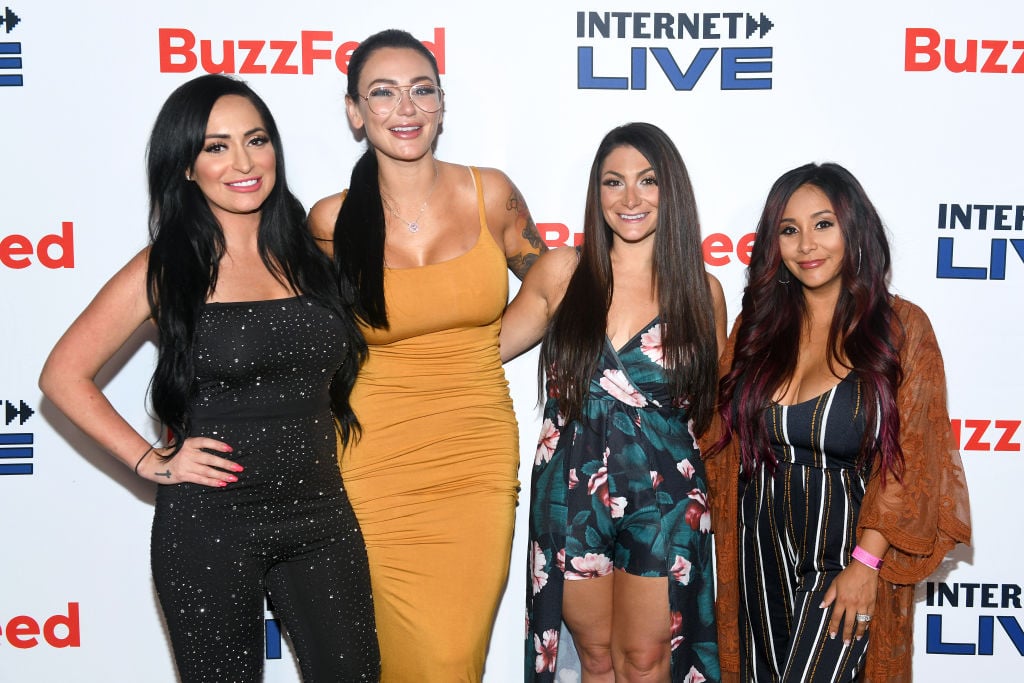 Nicole "Snooki" Polizzi's celebrity crush
Snooki, JWoww, Deena, and Angelina opened up in a Us Weekly interview published on March 24. During the interview, they played a round of "Candlelight Confessions," where they faced questions about themselves and their lives.
When asked to name their celebrity crushes, Snooki gave a bold answer. She said she doesn't have a crush on just one celebrity — she has the hots for five of them.
"Well, Jessica Simpson and [Jenna] Dewan," she confessed. "But if it's a boy and I had to go a boy route, it was Paul Walker. R.I.P. I love you. Ben Affleck, now, or Tom Holland."
Jennifer "JWoww" Farley's celebrity crush
Meanwhile, JWoww told the outlet that she loves Jason Momoa, who is in a longterm relationship with his own crush, actress Lisa Bonet.
Momoa told James Corden in a 2017 episode of The Late Late Show that he used to watch Bonet on The Cosby Show when he was a kid and that he was instantly smitten.
"Ever since I was like, 8 years old and I saw her on the TV, I was like, 'Mommy, I want that one,'" the Aquaman actor explained. "I'm like, 'I'm going to stalk you for the rest of my life and I'm going to get you.'"
The two began dating after meeting through mutual friends in 2005. But Momoa didn't tell Bonet that he'd had a crush on her until they were years into their relationship.
"I didn't tell her that until we had two babies, otherwise, I'd be creepy and weird," he added. The pair shares two children, daughter Lola Iolani Momoa, 12, and son Nakoa-Wolf Manakauapo Namakaeha, 11.
"But yeah, just always wanted to meet her. She was a queen, always," Momoa continued.
Despite their ongoing romance, JWoww teased that she's sticking around regardless.
"Hey, boo. I'm still waiting for you to drop that restraining order so we can hang out," she joked.
Deena Cortese's celebrity crush
For her part, Cortese had it bad for Hugh Jackman.
"He just kills it. He's so talented. I love Hugh Jackman," she confessed. "I watched The Greatest Showman a million times."
Honestly, who hasn't?
But unfortunately for fans, Jackman is off the market. He's been married to actress Deborra-Lee Furness for nearly 25 years.
They met in 1995 on the set of the drama series Corelli and soon began dating. Jackman told TODAY in 2018 that he knew within two weeks of meeting Furness that he was going to marry her. He proposed four months after they met and married the actress in 1996. Together, they are parents to two adopted children.
Angelina Pivarnick's celebrity crush
Pivarnick confessed that she has a crush on Hollywood bachelor Leonardo DiCaprio, who she claims was super sweet and "down to Earth" when they met a few years ago.
But he's not the only one on her radar. She also said that it's hard to take her eyes off of Bachelor star Peter Weber.
"Oh, my God. Pilot Pete," Pivarnick gushed. "I even told my husband [Chris Larangeira], 'Sorry babe, but he's hot.'"
We can't say we blame her — or any of them, for that matter.
Source: Read Full Article