Meghan Markle is narrating Disney's new documentary Elephant, which drops April 3 on Disney+—and apparently Prince Harry joined her in the studio last October for her voice-over sessions.
"It was amazing having [Harry] there," filmmaker Vanessa Berlowitz told People. "He had a connection to Botswana, of course." Meanwhile, filmmaker Mark Linfield added "Harry was correcting her pronunciation!"
Apparently, Meghan was so into the project, she even did her own improvising: "She made it her own," said filmmaker Roy Conli. "I always say, 'If you feel something, do it, make it organic.' She's such a diligent professional and she wanted to get it right. It was a delight all the way around."
Two new movies, two unforgettable journeys. Start streaming Disneynature's Elephant, narrated by Meghan, The Duchess of Sussex, and Disneynature's Dolphin Reef, narrated by Natalie Portman, on April 3, only on #DisneyPlus. pic.twitter.com/N0yW0e7Lv6
FYI, the movie follows a family of elephants (led by a matriarch named Gaia) searching for water across the Kalahari Desert. Berlowitz tells People that Meghan "was absolutely intrigued by the elephants and transfixed, especially by the female empowerment side. How important the matriarchs are to the story; it really is all about female leadership. It's a different form of power—it's about consensual leadership. It's also very inclusive, as well—very contemporary. She was absolutely fascinated by that."
Can't wait to watch!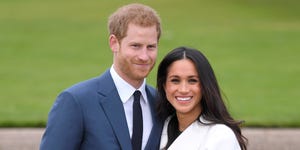 Source: Read Full Article