The Kardashian-Jenner family is back on TV with the return of Keeping Up with the Kardashians (KUWTK). Season 18 of the long-running reality show debuted on March 26, 2020, and with it came an explosive fight and an argument about work ethic followed by even more disagreements on Twitter. Despite all the drama, sisters Khloé Kardashian and Kim Kardashian West are closer than ever. 
Like past seasons of KUWTK, numerous members of the Kardashian-Jenner family took to Twitter during the show's Season 18 debut. While interacting with viewers and providing commentary on the March 26 episode, Khloé not only revealed she watched the premiere with her ex, Tristan Thompson, but she also opened up about her the state of her relationship with her older sister, Kim. 
Khloé Kardashian says she and Kim Kardashian West 'became so close' during her pregnancy
Khloé, 35, shared with her nearly 28 million Twitter followers, she'd once been worried about how becoming a mother would change her relationship with Kim. It started when a viewer tweeted about how close the sisters seemed on KUWTK. 
"I feel @KimKardashian and @khloekardashian have grown soooo much closer since Koko got pregnant #kuwtk love them," they said.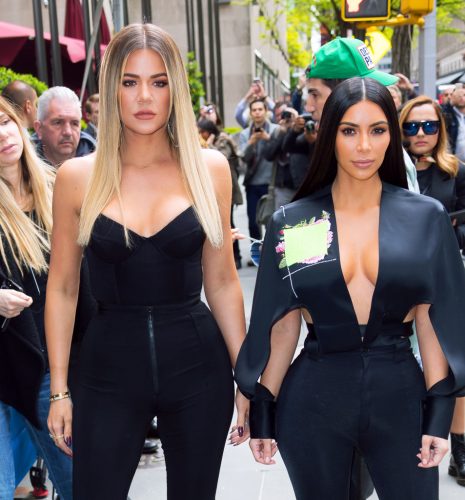 Khloé replied to the fan, tweeting, "You are exactly right!" The founder of Good American did indeed grow closer with Kim when she'd been pregnant with her now-one-year-old daughter, True, whom she shares with Thompson.
Khloé explained how she'd been concerned about what would happen to her relationship with Kim upon True's arrival, saying she'd afraid they "were going to drift apart." Thankfully, her fear had been unfounded because Khloe replied that once she became a mom, her relationship with Kim never faltered. 
Khloé likely bonded with Kim — and her mother, Kris Jenner, as well as her sisters, Kourtney Kardashian and Kylie Jenner — over pregnancy and motherhood.
Fans say Kourtney Kardashian is jealous of her sisters' relationship
After another drama-filled episode of KUWTK, fans believe they've found the root cause of the feud following the March 26 episode. Remember the argument in Season 17 between Kim and Kourtney about candy? While fans thought it may have been fabricated, it's only escalated since then, as evidenced by the premiere of Season 18. 
Much of the episode focused on shifting dynamics between Khloé, Kourtney, and Kim. Kourtney, the oldest Kardashian-Jenner sibling, said "for years" it had been her and Khloé against Kim. Now, she says, it's Kim and Khloé against her. 
Throughout the episode and in the following hours, fans took to Twitter to share their theories about the root of feud that's been playing out on-camera between the sisters. Some fans believe the feud is all because Kourtney's jealous of Khloé and Kim's relationship. Whether or not that's true, Khloé did say on Twitter she and Kim are close.
Meanwhile, Kourtney's decided to take a step back from filming KUWTK to focus on her three kids. However, audiences don't know if the feud played a role in her decision.We'll have to wait for more episodes of KUWTK  to see how the drama between Kourtney, Kim, and Khloé unfolds.
Watch KUWTK Thursday nights on E! at 8 p.m. EST. 
Source: Read Full Article