The star's response seemingly backfires as some others come at her, pointing that voice can change throughout the years, as Kim Kardashian also noted in a March interview that the voice changes got her and her family's mind blown.
AceShowbiz –Khloe Kardashian is never shy to express her opinion. When she caught a fan mocking her changing "baby voice" in the early episodes of "Keeping Up with the Kardashians", the reality TV star didn't waste time to clap back at the person.
It started after one person commented on Khloe and her family after watching the latest episode of the long-running E! show. "Everyone's voice changed so much omggg. In a good way, of course #KUWTK," the fan wrote on Twitter. Another user, however, responded to the positive comment while dissing Khloe in the process.
"i feel like kim's changed 100%, kourt and khlo lowkey the same except khlo got rid of that baby voice she used to talk in from time to time LMAOAKSK," the critic said, referring to Khloe's sisters Kourtney Kardashian and Kim Kardashian. Catching wind of the comment, Khloe replied to the person, "I don't understand how my voice was different back then? It makes no sense that your voice can change. Clearly I was past puberty at this point LOL."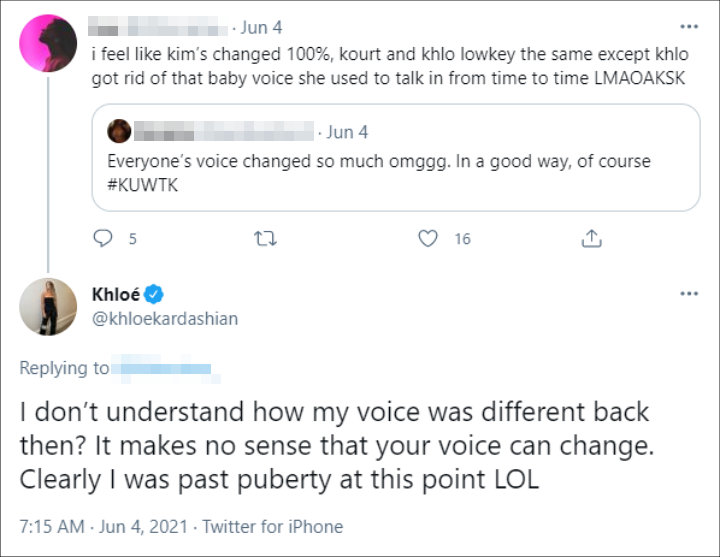 Khloe Kardashian denied that her voice changed.
Her response seemingly backfired as some other people came at her, pointing that voice can change throughout the years. "Voices change with age and maturity," one fan said. "I don't understand how Koko doesn't understand. Jennifer Aniston's voice on 'FRIENDS' to her voice NOW, for one…….," another person chimed in.
"I love you Khloe loads and loads but you not acknowledging you used 'baby voice' especially around [Lamar Odom] to be cute is so surprising after you've raised to be the amazing woman we respect," someone else added. "We all know the baby voice!!!!!!" one user simply wrote to the Good American jeans founder.
Even Kim acknowledged that her voice changed during a 2010 interview with Ellen DeGeneres. "I'm really baffled by how my voice has changed so much!" the KKW Beauty founder said. The mom of four doubled down on her statement this year, telling Vogue in March that she and her family were "blown away" by the change in their voices.
"We have no idea what happened to our voices; we have completely different voices. … I look back and I think, 'Oh, my God, there's so many embarrassing things that are on TV for the world to see,' " Kim explained.
Source: Read Full Article