It's a desperate time right now for those in the restaurant industry.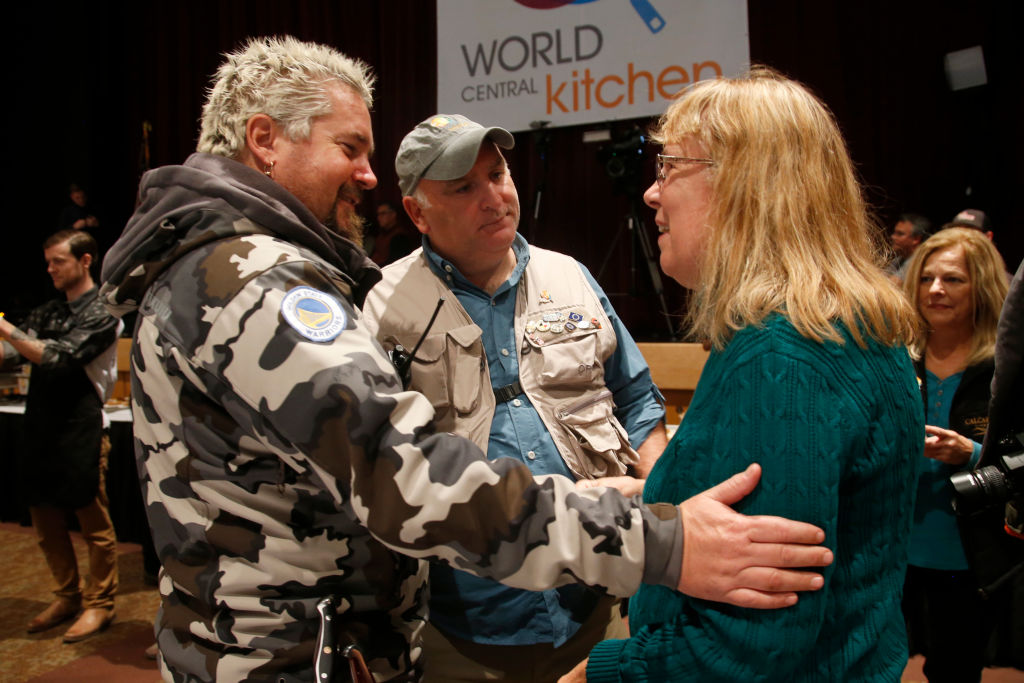 These three well-known chefs are doing their part to help workers in every way possible right now.
Guy Fieri launches a relief fund for laid-off restaurant workers
With the current pandemic forcing restaurants to close and limiting them to take-out and food deliveries only, restaurant staff and servers are losing income with no end in sight for when they might return to work, if they do.
The National Restaurant Association Educational Foundation (NRAEF), which is the National Restaurant Association's fundraising branch, has announced that a relief fund has been initiated. Officially called "Restaurant Relief America," the effort will include individual $500 grants for dishwashers, servers, bartenders, chefs, and cooks.
When Food Network star Guy Fieri heard what the NRAEF was doing to help out the industry, he wanted in.
"Guy heard we were forming a relief fund and wanted to partner with us," said Rob Gifford, President of the NRAEF. "He's been a fantastic partner since he's so passionate about the project."
In throwing his full support behind the effort, the Guy's Grocery Games host said, "I've . . . spent the better part of the last 15 years traveling this great country meeting other folks who've dedicated their lives to this business . . . they are the hardest working, most real deal workers you've ever met … the heartbeats of their communities."
Donations can be made on the same site where restaurant employees can apply for one-time grants, at RERF.US.
Wolfgang Puck is asking the president to consider emergency insurance coverage for restaurants at this time
Celebrity chef Wolfgang Puck has joined fellow renowned chefs Thomas Keller, Daniel Boulud, Jean-Georges Vongerichten, and Dominique Crenn to form BIG, (Business Interruption Group), a new national legal, political, and communications campaign launched in partnership with an industry-savvy insurance attorney.
The group has spoken by phone to President Trump for his assistance in communicating with insurance companies, who have, for the most part, denied restaurants assistance during the pandemic. Specifically, they are requesting the U.S. president to step in on their behalf. And it looks like Mr. Trump is sympathetic.
Puck said, "We were encouraged by our conversation with the president about the urgent need to help the restaurant industry. All of us paid business interruption insurance for years to protect the livelihood of our employees. If the restaurant industry collapses, it has a massive effect on the entire economy. . ."
Hopefully, the restaurant industry will find a measure of relief through the president's intervention with insurance companies on their behalf.
José Andrés is once again firing up his pots and pans to feed those in need
In the midst of recent catastrophes, namely the Puerto Rican 2017 devastation after Hurricane Maria and the 2018 California wildfires, one organization that could be counted on to be at the scene was celebrated Spanish chef José Andrés' World Central Kitchen (WCK). WCK stands at the ready to feed first responders, communities, and families in need. Helping out hurting communities seems to be Andrés' mission.
Over two weeks ago, Andrés' restaurants were some of the first to close due to the coronavirus (COVID-19) outbreak. On Mar. 17, the chef reopened some to serve as "community kitchens" as part of WCK's work that has attained visibility during catastrophes. The meals from these community kitchens are provided at lowered prices, and are available free to those unable to pay. They can also be donated to others.
The chef said on Twitter, "27 years ago I opened @Jaleo….today we are closed. This is a hard time, but we are one big family & we will get through this. We can all take care of each other…sometimes that's all it takes. So be strong. We can change the world through the power of food."
Hopefully, all of these extraordinary measures by these individuals will result in the help that hardworking restaurant and hospitality professionals need now.
Source: Read Full Article