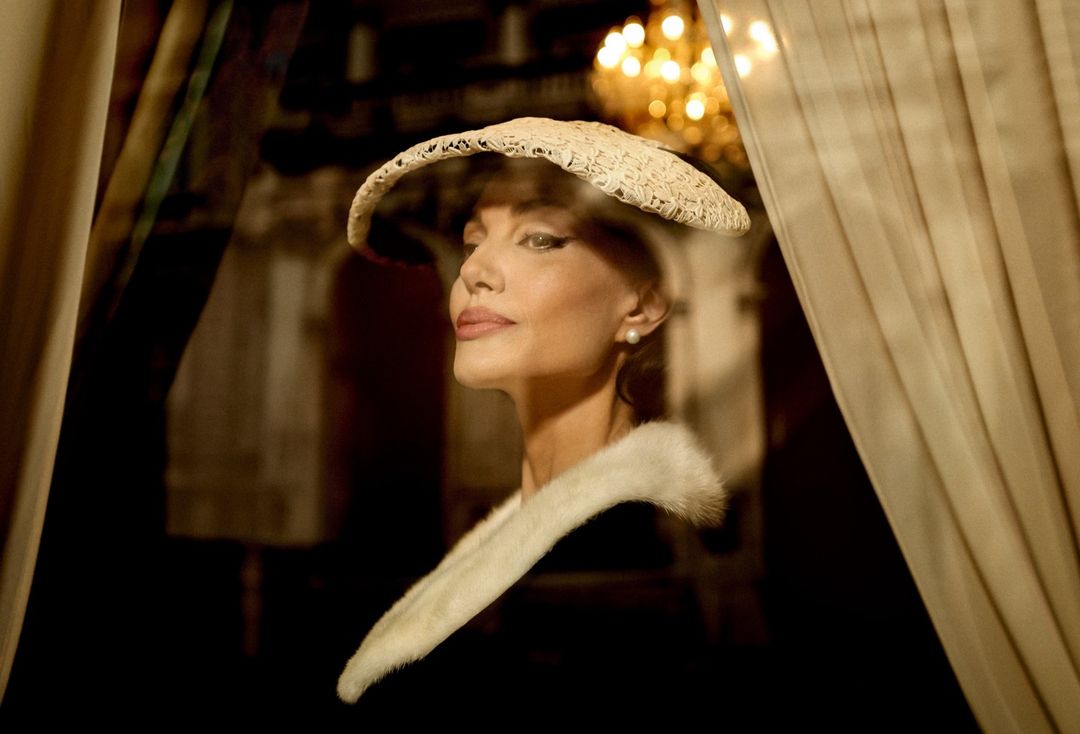 Director Pablo Larrain is developing quite the niche for himself as a filmmaker: hyper-focused biopics of very famous and iconic women. I was pleasantly surprised by Larrain's Jackie, with Natalie Portman as Jackie Kennedy. I also thought he got an interesting performance out of Kristen Stewart in Spencer, where she played Princess Diana. Next up: directing Angelina Jolie as Maria Callas in Maria. Fremantle just released two new stills, and they've added more details about the SAG-AFTRA-waivered production:
Angelina Jolie transforms into legendary opera singer Maria Callas in the first images from Pablo Larraín's biopic "Maria."

The "Jackie" and "Spencer" director's latest film will "explore the life of the legendary, iconic and controversial singer, often described as the original diva," according to its official description. "Based on true accounts, 'Maria' tells the tumultuous, beautiful and tragic story of the life of the world's greatest opera singer, relived and re-imagined during her final days in 1970s Paris."

As "Maria" is an independent film with an interim agreement from SAG-AFTRA, production is set to take place over eight weeks in Paris, Greece, Budapest and Milan. The script, which was completed prior to the Writers Guild strike, is penned by Larraín's "Spencer" collaborator Steven Knight. Alongside Jolie, the cast includes Pierfrancesco Favino ("Adagio"), Alba Rohrwacher ("La Chimera"), Haluk Bilginer ("Winter Sleep"), Kodi Smit-McPhee ("The Power of the Dog") and Valeria Golino ("Portrait of a Lady on Fire").

"I am incredibly excited to start production on 'Maria,' which I hope will bring Maria Callas' remarkable life and work to audiences all around the world, thanks to the magnificent script by Steven Knight, the work of the entire cast and crew, and especially, Angelina's brilliant work and extraordinary preparation," Larraín said in a statement.

Jolie's costumes are based on real garments worn by Callas, including vintage fur items from Massimo Cantini Parrini's archive collection, on which they consulted with PETA in order to not use any new fur.
[From Variety]
Purely going on looks, I assume Pierfrancesco Favino is playing Ari Onassis, probably in the flashback scenes. I wonder who Kodi Smit-McPhee is playing. He's a very strange, other-worldly actor. As for the photos and everything else… I'm excited, honestly. Something which makes me so happy is that Larrain is clearly not interested in using prosthetics on Jolie – there will be no big, fake nose, thank God. I would assume Jolie's transformation will be done through wigs, makeup, costumes and, you know, acting. I also think it's cool that they're using Callas' real clothes or archival pieces. I'm also thrilled that this is SAG-waivered. Angelina's most recent ex-husband is a scab, but not Jolie.
https://www.instagram.com/p/CyLrV1BMvx-/
Photos courtesy of Fremantle/Pablo Larrain.
Source: Read Full Article