Have you watched the latest episode of Keeping Up with the Kardashians yet? If not, you missed a serious conversation between Khloé Kardashian and Tristan Thompson about their future.
The former flames were hanging out when the topic arose of giving their daughter, True Thompson, another sibling. While Kardashian initially seemed turned off by the idea, she later admitted that she may  "borrow some sperm or get some" from Thompson to give True a brother or sister.
Offering more insight about her potential plans, a source recently revealed that Kardashian was allegedly "half serious" about having another baby with Thompson.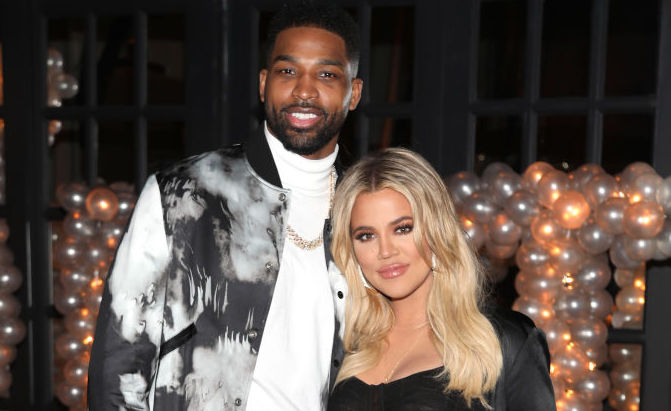 A brief recap of the latest episode of 'Keeping Up with the Kardashians'
The episode largely focused on their attempts to forge a co-parenting relationship following their highly-publicized 2019 split.
At one point in the program, the two hopped on a FaceTime call where they tried to figure out which toys to keep for True, who is now 2.
Thompson suggested that they hold on to the toys in case they have another girl, to which Kardashian asked: "Who's having another girl with you?"
"Listen, I'm just saying, True does need a sibling so…" Thompson replied.
"So I might get some embryos and get a sibling," Kardashian said. "I might need to borrow some sperm or get some from you, but we'll figure that out later. That a whole other episode."
A source opens up about the conversation between Khloé Kardashian and Tristan Thompson
On April 17, an insider told People that the Good American co-founder was "half joking, half serious" about the comments she made to Thompson.
"Khloé wanted to become a mom for years before she got pregnant with True," the insider shared. "Being a mom is even more precious than she could have ever imagined. She just loves it all. She absolutely wants a sibling for True. Tristan seems to be on the same page and would like a sibling for True as well."
However, the source noted that the logistics of that are still "not clear" for Kardashian, 35, and Thompson, 29.
"Although being co-parents instead of being together is not the ultimate situation in Khloé's mind, she is very happy about how she and Tristan are raising True," the insider added. "And now with the lockdown, Tristan has been in L.A. for weeks. He and True are spending more time than ever together. Khloé is very happy about it."
Neither of them has commented on the report, as of writing. But before they broke up, Kardashian definitely said she'd wanted more children with Thompson, noting that he wanted "five or six."
Fans have a lot of thoughts about the conversation
A lot of viewers seemed really disappointed in Kardashian for even considering such a thing after all Thompson put her through — from allegedly cheating on her just days before she gave birth to True in April 2018 to hooking up with her family friend Jordyn Woods in February 2019. Many of them took to social media and expressed their feelings, with one writing that Kardashian's self-worth is "nonexistent."
Other viewers pointed out that True already has a sibling — her brother, Prince, who was born to Thompson and entrepreneur Jordan Craig in 2016.
"Welp Tristan Thompson seems to have forgotten about his son when he said that True needs a sibling," read one tweet.
Another said: "I don't understand why you two @RealTristan13 @khloekardashian kept acting in this episode like True is Tristan's only child by saying she needs a sibling. She does have one, Jordy's son."
Oof.
People may be upset, but we imagine that these two ultimately know what's best for them and their family and wouldn't move on something that's not. So we'll see what happens here.
Read more: Kim Kardashian West Shows a Rare Glimpse of Her Dad's Side of the Family In New Instagram Post
Source: Read Full Article