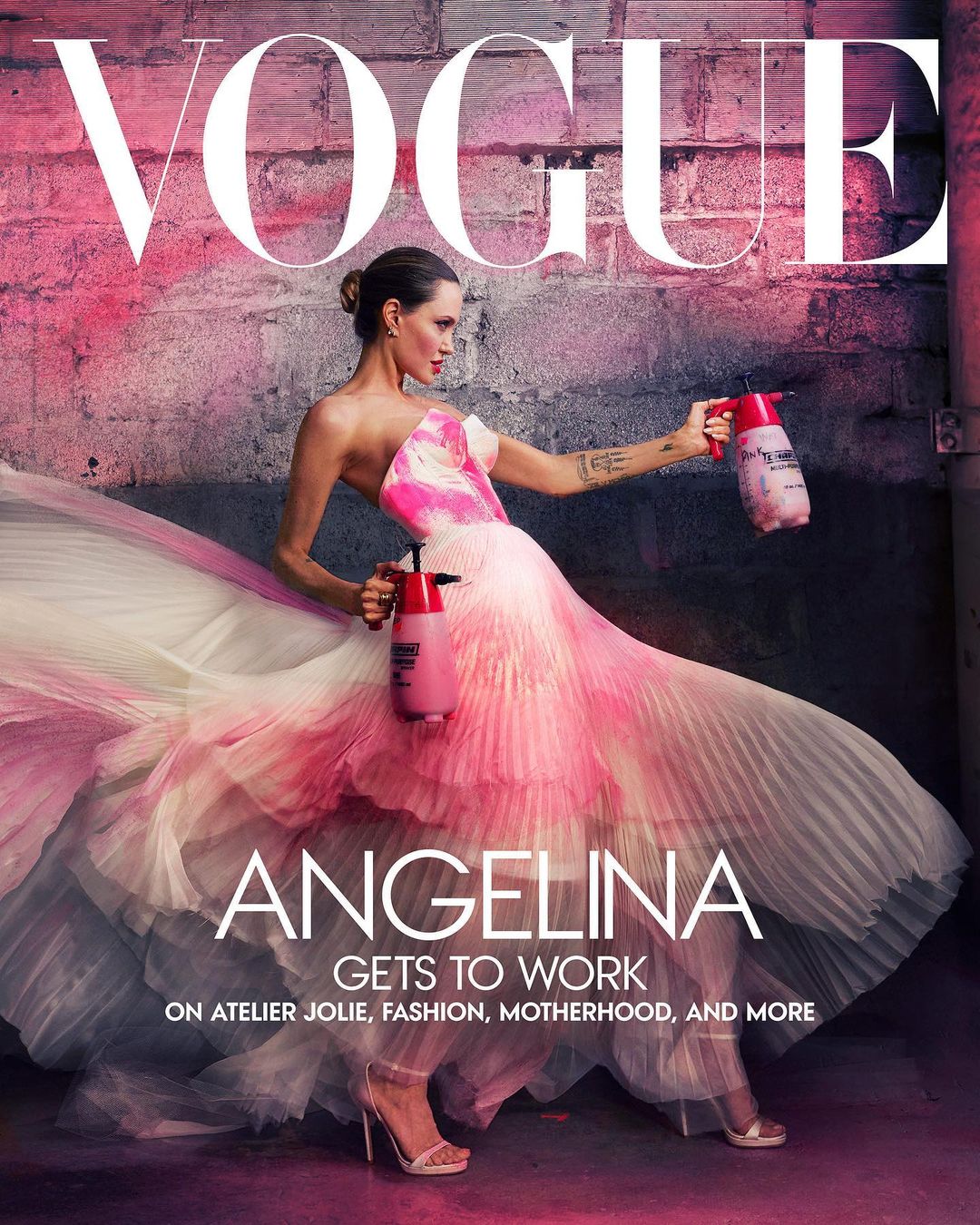 Yay! This had been rumored for a few months, this Angelina Jolie-Vogue cover. Honestly, this should have been a cover for the print edition, either the September or October issue. But here we are, Jolie covering the "digital issue." Angelina is promoting her big new project: Atelier Jolie, the refugee fashion collective she announced several months back. She will employ refugee artists and artisans to create clothing lines and capsule collections, all using deadstock and sustainable materials. The first Atelier Jolie project will be a capsule collection with Gabriela Hearst. You can read the full Vogue piece here – it's amazing, and there's a real emphasis on how her kids are very involved too. Zahara gave her approval to lease Basquiat's old studio, and Pax has done some art/design work for the atelier.
Atelier Jolie is not about her: "I've met a lot of artisans over the years—very capable, talented people—and I'd like to see them grow," Jolie says as she gives me a tour of the space before the contractors go to work. Her list of collaborators includes the London-based milliner Justin Smith, the American artist Duke Riley, and South African lacemaker Pierre Fouché—but, she says, "it's not really about fashion." Nor is Atelier Jolie about her, she is quick to add. "I don't want to be a big fashion designer. I want to build a house for other people to become that."

Her children. "I was 26 when I became a mother. My entire life changed. Having children saved me—and taught me to be in this world differently. I think, recently, I would've gone under in a much darker way had I not wanted to live for them. They're better than me, because you want your children to be. Of course I'm the mother, and hopefully that safe place for them and that stability. But I'm also the one that they laugh at—and I see them taking over so many different aspects of our family."

She's not into fashion, actually: "There are more books than clothes in my closet. I'm not someone who likes clothes to consume her life. And I don't love the idea of being 'influenced.' I find it slightly funny that we are involved in fashion—I don't think any one of us is overly 'fashionable,' " she says, referring to both herself and her children. "But because we live in our clothes, it is so much a part of who we are, and something that's important to explore, especially for young people. I've always wanted to take my family to a place where I can say: Does your clothing really represent you? Absolutely you? And do you love it? I think the average person would not think it does. But I think tailoring does that for you."

How she helps her kids be themselves: "I don't tell the kids how to dress. Even when they were little, I just put things in front of them." The same goes for public appearances: "Nobody has to go anywhere if they don't want to, and if they don't want to dress up, they don't have to."

Moving beyond the UNHCR: "I've spent over 20 years of my life working on foreign policy, and aid relief, and displacement, and laws pertaining to refugees, and I kept watching the same situation get worse and the same cycles continue. Now I want to shift the focus and look at how we can work in partnership with people around the world to bring not just skills training, but actual business partnership. I don't really believe the current system is working."

The Hearst-Jolie capsule collection: The capsule includes a dramatic floor-length velvet cape, and an adult-size version of Jolie's baby crochet smock handmade by the craftspeople at La Fabrique Nomade, an organization in Paris that works with refugees. Jolie's trademark silk slip dress emerges through a broad range of nude shades—the suggestion of Zahara, who has struggled to find the right match for her dark brown skin tone. "Obviously, as a white woman, I've never had this experience. It never crossed my mind until we went shopping together and I saw that there's so much room for improvement." (A full 84 percent of the collection is made using sustainable and ethical materials.)

Dressing soft: "Sometimes the way you dress says, 'Don't mess with me—I've got my armor on,.' But I want a woman to feel safe enough that she can be soft. After I went through something where I was hurt, I had a therapist ask if I would try wearing a flowing garment. Sounds silly, but I assumed that pants and boots projected a 'tougher' look, a stronger me. But was I strong enough to be soft? At the time, no. I felt vulnerable. Now I wonder if I don't know what my style is because I'm still understanding who I am at 48. I guess I'm in transition as a person… I feel a bit down these days. I don't feel like I've been myself for a decade, in a way, which I don't want to get into."

Seven years ago: She took a step back from acting "seven years ago, only taking jobs that didn't require long shoots. We had a lot of healing to do. We're still finding our footing." Atelier Jolie is part of this process, it seems. "I think part of this has also been therapeutic for me—to work in a creative space with people you trust and to rediscover yourself," she says. "I'm hoping to change many aspects of my life. And this is the forward-facing one."
[From Vogue]
Gabriela Hearst is also part of the interview, and it's clear that the two women became fast friends who adore each other in a very real way. Angelina even says that she's not someone who has a lot of girlfriends, but it's clear that Hearst is someone special (as is Salma Hayek, who also seems to be someone Jolie can count on these days). Angelina also confirms in the interview that she's going apartment-hunting in New York with her kids, so there absolutely will be a move or a bicoastal situation now. I love that for her, a fresh start in New York, with her kids and a new business and new friends. It's what she needs. Her ex is such a f–king toxic douche.
https://www.instagram.com/p/CxsdzD1xuPk/
https://www.instagram.com/p/Cxsdrv2JVgR/
Cover & IGs courtesy of Vogue.
Source: Read Full Article