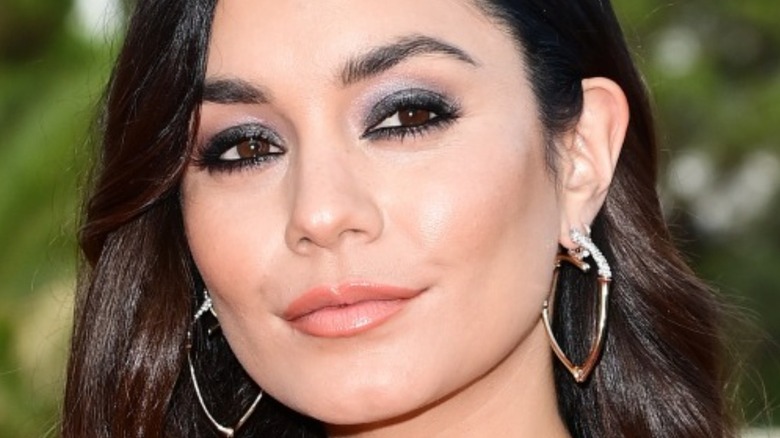 Vanessa Hudgens has come a long way from her time on the Disney channel. Through her work on successful projects like 2013's sleeper hit "Spring Breakers" (via The Atlantic), catchy music features including Phantoms' "Lay With Me" (via Billboard), and the launch of DNA-based skincare brand Know Beauty with singer and close friend Madison Beer, she has cemented her spot in the entertainment and beauty industries. 
Vanessa Hudgens' hair evolution has just as much personality as the actress herself. She never sticks to one look, and infuses creativity into every hairstyle, makeup routine, and outfit. Over the years, she's transformed her natural brown hair into edgy colors, and rotated through drastically different short and long cuts, per Styles Weekly. There isn't a style, color, or cut she hasn't tried, which accounts for the plethora of YouTube beauty tutorials dedicated to imitating her best looks. Here's a timeline of her most iconic hairstyles.
Vanessa Hudgens' hairstyles in the High School Musical era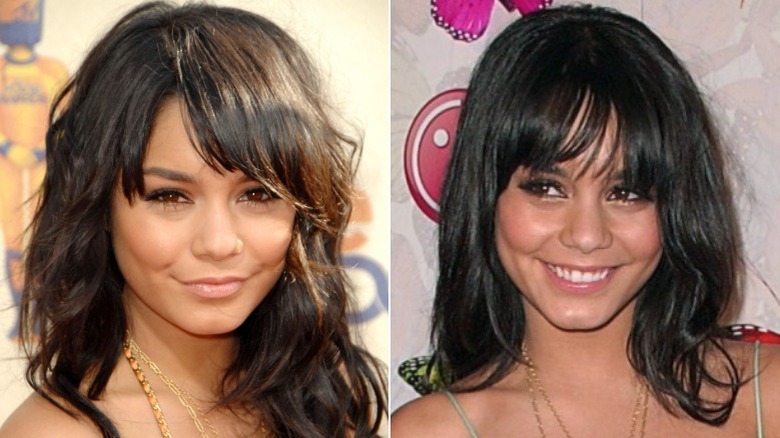 Since her breakout role in Disney's "High School Musical" film franchise, Vanessa Hudgens has made waves with her music and acting career, as well as her iconic style. Her classic dark curls complemented her jawline and full cheeks, and made every makeup look seem like she was on the runway. This was the start of the skincare and beauty mogul's long hair journey.
During her 2009 cover shoot for InStyle, Hudgens revamped her signature look and wore pin straight hair, sleek bangs, and bright pink lips. Makeup artist Fiona Stiles, the mastermind behind the change, shared the inspiration behind her surprising but fun look. "She always plays with her eyes, so this was unexpected," Stiles explained. "She has amazing lips so you can really accentuate them" (via InStyle). This bold makeover showed off the "Say OK" singer's playful side.
Hudgens has experimented with many hairstyles throughout her long career, but Teen Vogue opines that her full bangs and medium-length haircut at the 2009 LG "Rumorous Night" Launch Party was one of her most memorable. No argument there. The short cut expertly framed her face, while emphasizing her million-watt smile.
Her edgy pixie cut was not a favorite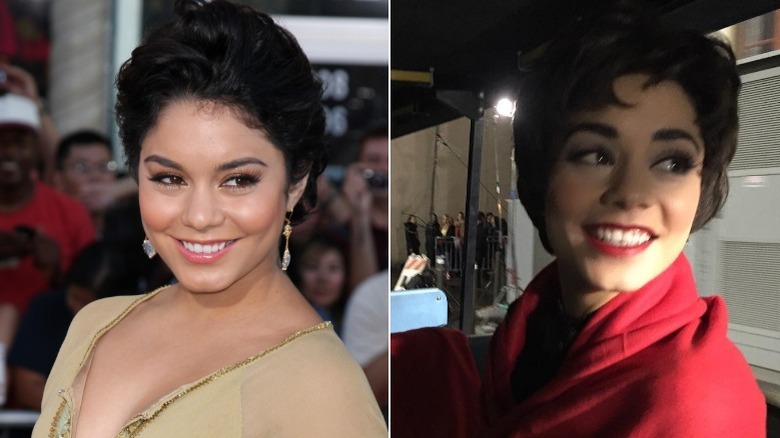 In 2011, Vanessa Hudgens surprised fans everywhere when she waved goodbye to her curls and rocked a pixie cut at the premiere for Disney's "Captain America: The First Avenger" (pictured on the left). She even overhauled her makeup and style to fit the new look. But according to Glamour, she had major hair regrets after making the big chop in preparation for her role in the 2013 film "Gimme Shelter." In an interview with Access Hollywood, she admitted that the look gave her "soccer mom" vibes (via Glamour). "Honestly, I kind of feel like a soccer mom, but we're going to let that go," she explained. "There's nothing wrong with soccer moms, but I'm only 22! I miss [my hair,] believe me, I do, but there's nothing I can do about it." 
We've all coped with haircut regret at some point. On the red carpet, the "Gimme Shelter" actress made the best of the look and teased her hair into a gorgeous faux hawk. Despite her feelings about the haircut, per Seventeen, her iconic pixie was brought back to life during her run as Rizzo in 2015's TV musical "Grease Live." She commemorated the experience with a throwback photo on her Instagram page (pictured right). The look was just as flattering on her in the revival of the legendary musical as it was on her four years prior.
Vanessa Hudgens isn't afraid to experiment with bold colors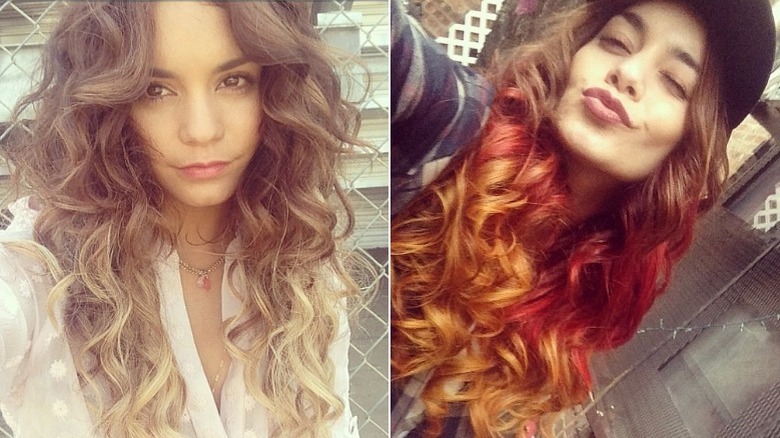 The ombre hair trend has been in vogue for years, and is one that is easily maintained and looks great on everyone. Hair fairy Vanessa Hudgens took this trend and made it her own. In an August 2013 Instagram post, she debuted a stunning blonde ombre hairstyle. For the look, she opted for natural but contrasting colors. Glamour UK crowned her bold hairstyle the ultimate summer 'do.
To everyone's surprise, the ethereal look lasted for a few months before she kicked it up a notch. In October, just when fans got used to her iconic hairstyle, she exchanged her warm hues for an autumn-inspired ombre and showed off her bright hair on Instagram. But her hair transformation didn't stop there. Per Cosmopolitan UK, she gave short hair another try, but this time in the form of a stylish lob. In October 2014, she dyed her long bob a fiery red, just in time for Halloween. Celebrity hairstylist Nikki Lee posted an Instagram shot of Hudgens' bold hairstyle.
Vanessa Hudgens is the queen of milkmaid braids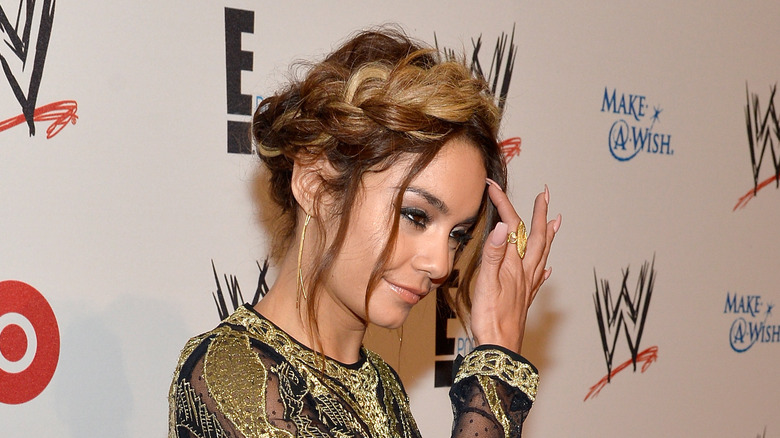 Red Carpet Fashion Awards broke down another classic hairstyle from Vanessa Hudgens. All eyes were on her show-stopping black and gold embroidered gown at the WWE & E! Entertainment's SuperStars For Hope event in 2013, but her iconic hair is what pulled everything together. Her milkmaid braids (pictured above) gave her outfit a playful vibe. We can all agree that the actress and beauty entrepreneur brought her A-game to the ceremony.
All Things Hair reminded us about the hold Hudgens has on beauty trends, and her attention to detail. During another outing, the beauty expert put a creative twist on this popular updo hairstyle and pinned tiny pink flowers onto her crown. Braid hairstyles aren't going anywhere any time soon, so if you're dying to switch your hair without the commitment of a haircut, this look is a happy medium. To copy this hairdo, All Things Hair suggests using a hairspray with a firm hold to keep any flyaways in place.
She showed off the versatility of a bob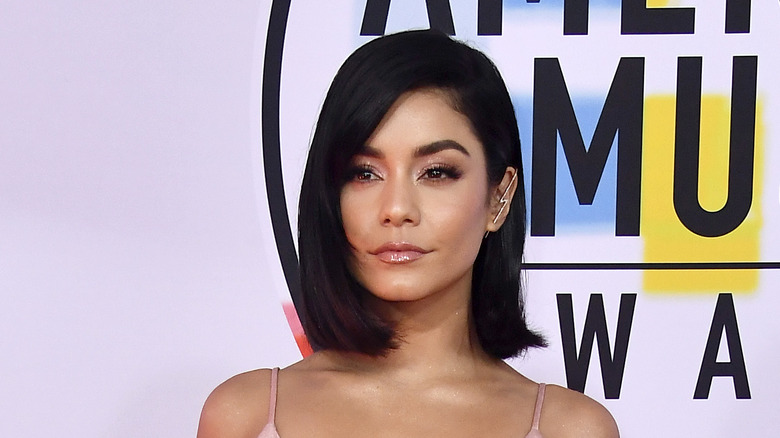 From the beginning of her career, Vanessa Hudgens has been on a never-ending hair campaign for bobs. In May 2017, Vanessa Hudgens officially joined the bob club. According to Teen Vogue, she documented the drastic haircut on her Snapchat. Come summertime, she pulled out her curling iron and added blunt bangs to her look. On August 2, celebrity hairstylist Chad Wood showed off her newly cropped look on Instagram. Long locks gone, the "Sneakernight" singer still found creative ways to reinvent her hairstyle. 
Hudgens ended up switching up her cut and color during an appearance at Elle's 2017 Women in Hollywood Awards, per E. Her blonde, tousled waves brightened her face and added depth to her iconic bob. She grew out her bangs for the 2018 American Music Awards. In an interview with ET, she revealed the inspiration behind her entire look. "It's cushiony. It's classic and chic and here for JLo so I figured that was the way to go" (via YouTube).
She's a pro at taking her look from day to night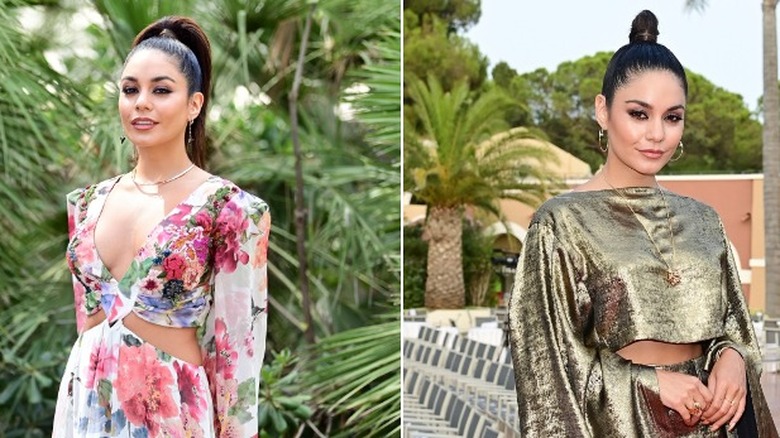 Vanessa Hudgens' style is always evolving, and she proved that after rotating through different hairstyles and elegant red carpet looks at the 2021 Filming Italy Festival. Per Daily Mail, on July 22, the "Princess Switch" star (via IMDb) paired a pristine white cut-out gown designed by Christopher Esber with sleek, dark locks. Her next look for the film festival was a subtle callback to her iconic goddess waves. While presenting an award to Harvey Keitel, reports Just Jared Jr., she rocked loose curls and a black velvet, Alessandra Rich-designed slit dress, embodying Old Hollywood glamour.
On July 24, she pulled off her most daring hair look and gave us The Nanny's Fran Fine vibes with her gravity-defying ponytail (pictured above). For the event, her voluminous hair and radiant chestnut highlights brought attention to her equally stunning makeup look. The ponytail bump really defined her overall aesthetic for the ceremony and complemented her flowing floral dress. That same night, Hudgens' full ponytail transitioned into a fashion-forward high bun and completely stole the show, per ET. The style icon played around with dimensions from head to toe, and wore a gold monochrome outfit with dramatic sleeves and high-waisted flare pants.
If you've been debating testing out a new hairstyle for awhile but haven't landed on anything, take a page from Hudgens' hair transformation look book. Short, long, curly, or straight, the multi-hyphenate makes the case for hair experimentation without worrying about what's on trend.
Source: Read Full Article